Created forty-five years ago, Stafilopatis N. S.A. is a Greek company leading the access and lifting equipment in Greece and has been Haulotte exclusive dealer for many years now. Its main office is located in Athens, while another branch office for Northern Greece in Thessaloniki allows the company to cover the whole country. We asked Commercial Director and shareholder Nikos Stafilopatis to tell us more about their activity, the Greek market and their relationship with Haulotte.
Could you tell us a little bit more regarding your specific activites and customers?


Our company has two pylons: one is the commercial side and the other is the rental activity. We do sell and rent both access and lifting equipment. Regarding lifting equipment, we have exclusive cooperation for the Greek market with many well known European brands like Clark lift trucks and some other brands like DAUTEL & PAUS for tail lifts, Removal Elevators from Germany and COPMA group for knuckle cranes, from Italy. Our main fields of customers are construction companies, logistics, supermarkets and some of the biggest Greek plants of manufacturing steel products, pipelines etc.
In your opinion, what are the key factors for a successful deal and what is the most important thing to satisfy customers?
Selling products is perhaps the easy part of business. The difficult part is to provide technical support and to have well-known and reliable after-sales services. This is a key value of our company: we are not here only to sell or to rent equipment, we actually strive to provide excellent after-sales support. That can be spare parts, technicians that visit directly our customers when they experience problems or also to provide customers with other tailored services (service contracts, leasing of equipment etc).
According to you, what are the key drivers for the expansion/growth of your company?
We are a forty five-years-old company and since the beginning we believe our strength is our ability to promote in the market well-known, premium products and equipment and to support our customers with great after-sales services. This is crucial for us. Of course, the quality of the products is also a key factor, because obviously you cannot rent or sale low quality products, otherwise you will have to carry out more repairs and support. It is thus essential to promote products and equipment that have a very high level of quality, definitely.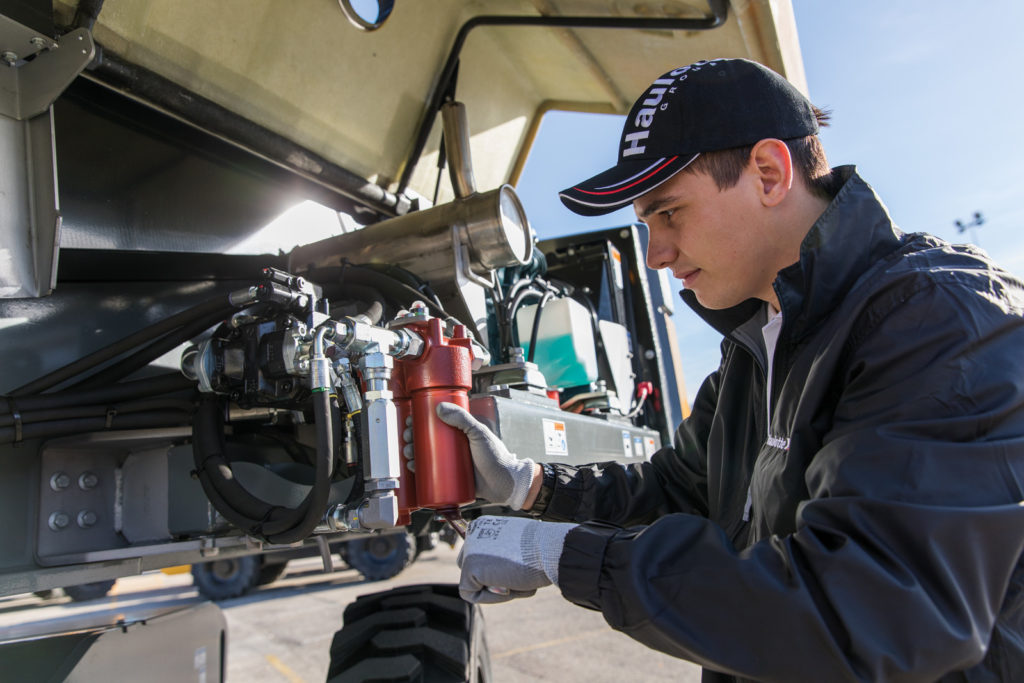 How would you describe the Greek market?
Our market is still a small one, with enough used equipment. We are trying to promote new equipment both for sales and rental purpose so that end users can check and feel the difference between used and new equipment.
How did this Greek market develop in the past ? According to you, what will the future be like?
I think that Greek market has not changed a lot over the last 10 years and will not change so much in the next 10 years. Competition is always there so you have always to be a step forward.  As I told you before, our strength is that we promote and rent also new scissors and boom lifts in order to always have an edge over competitors.
What has been the impact of COVID-19 so far in the Greek market and for your company, if any?
The COVID-19 has not impacted our company so far. For sure, market does move a little bit slower but hopefully it will recover within the next semester.
How and when did you meet Haulotte?
I believe we started to work with Haulotte about twenty years ago. A salesman had visited us and we knew that Haulotte was number 1 European manufacturer in terms of access, so we saw this cooperation as a unique opportunity to strengthen our portfolio of products and to promote an elaborate, reputable and well-known brand in the Greek market, which could only be good for us too.
Do you remember the first machine you acquired from Haulotte? How many Haulotte machines do you currently have in your fleet of equipment?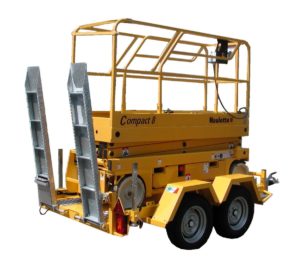 I believe it was a couple of compact 8 scissors lifts and also maybe some narrow scissor lifts. At the moment, we have approximately more than 500 machines in our equipment fleet.
How would describe the relationship between Stafilopatis and Haulotte? What would you expect from Haulotte, including in terms of marketing, communication and support, to strengthen this relationship?
After these twenty years of great partnership with Haulotte, I can tell you that we are more than satisfied! They have truly supported us and helped to increase our dynamic presence as a dealer in the Greek market, in the most efficient way. They already provide a very good level of support regarding after-sales services and we hope it will continue to evolve.
As for marketing, promotion and other fields, the support we have from Haulotte is just fine.But for sure, marketing is kind of an endless thing: both Stafilopatis and Haulotte, acting together, have to follow any new ways and methods of marketing, to promote Haulotte brand and products as best as possible!
If we had the opportunity to start all over again, we would still choose Haulotte as our main access equipment supplier, for sure, as we strongly believe in this group and we envision a common future with Haulotte!