Patrice Métairie is the Industrial Director (member of the Executive Committee) of the Haulotte Group. He supervises the Quality, Purchasing, R&D, Innovation, Supply Chain, Industrialization and Production divisions as well as the 6 industrial divisions in France (3 sites), Romania, United States and China, representing more than 1000 people.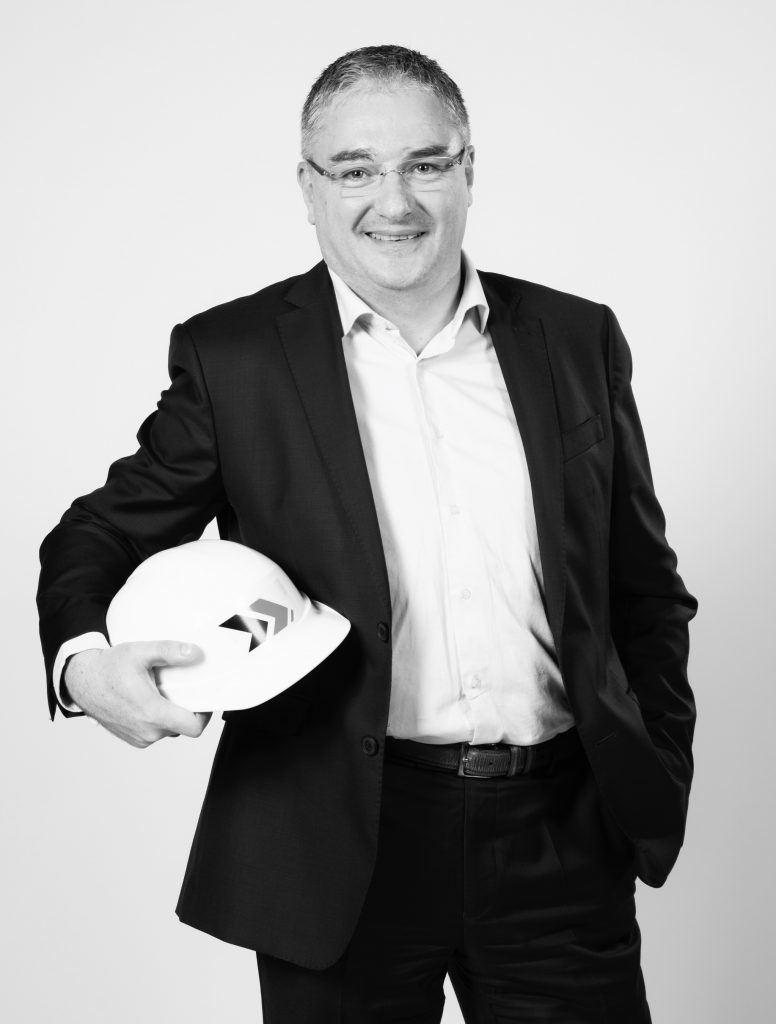 An overview of his background:
Engineer by qualification (INSA Lyon), holding a postgraduate degree in mechanical engineering and an MBA from CPA Lyon, Patrice Métairie joined the Haulotte Group in 1995. For the past 24 years, he has held numerous strategic responsibilities – Director of Purchasing & Logistics, Director of Industrial Sites, Director of Customer Service (a position he helped to create), Director of Haulotte France, then member of the Executive Committee -, supporting the group in all its development stages.
What place do innovation and production hold in the development of the Haulotte Group today?
We are « designers – assemblers ». Our industrial business model operates on 2 key areas: Research & Development with dedicated teams, and production for assembly on our lines thanks to 6 large industrial production sites in Europe, Asia and North America. We innovate and develop as much as we produce. This model allows us to be extremely proactive, to respond and to effectively anticipate market expectations.
We also owe this agility to our status as a mid-cap company. With its 2,000 employees worldwide, the Haulotte Group is large enough to be present in all markets with suitable machines; we are therefore able to develop new intelligent solutions on demand.
What are the key markers of this innovation?
Today, the Haulotte Group has an R&D department made up of more than 150 full-time professionals – engineers, project managers, mechanics, technicians, computer developers, researchers… – divided between the international headquarters and the various industrial sites. The group files between 5 and 7 new industrial patents each year, with between 3 to 5 product renewals per year.
The development cycle of a new Haulotte model, from its conception to its launch on the market, is now 18 to 24 months, which is extremely short in our sector.
Over the next 10 years, what will be the main trends and challenges in terms of innovation?
  Innovation is currently focused on the electrification of all our product solutions (Haulotte Group is becoming a Blue Company and will no longer develop any machine with internal combustion engine) and on the development of digital solutions that complement our machines and offer new connected services to our customers. Haulotte Group is now positioned as a supplier of smart height access solutions.
The challenges related to these two development areas are first and foremost human, by continuing to develop internal skills – whether in the field of the Internet of Things, the exploitation of digital data (data scientist), the development of new generations of batteries (lithium-ion, etc.), mechanical hybridisation technologies or alternative energies such as hydrogen… We are constantly integrating new skills and new professions. The second challenge is to develop new partnerships and open up the group's ecosystem.
The integration of these new cutting-edge technologies requires high level collaborative work with external skills. For example, the Haulotte Group has been collaborating for more than four years with the CEA (French Alternative Energies and Atomic Energy Commission) on new propulsion systems and electric batteries; or with ZAPI, an Italian company supporting us in the development of new infrastructures and electrical systems for our machines.


Haulotte is now present all over the world, how does this international presence influence the group's innovation and production strategy?
In terms of R&D, the challenges today are to produce and deliver machines that are perfectly adapted to each market. The industrial challenge lies in the production of standard machines in our various production units around the world, as close as possible to each market and customized according to the needs and standards specific to each country. To this end, we have developed a number of options that can be adapted to suit each market.
Therefore, we have a centralized R&D department in France; a new design office and test centre in Romania; plus, two design units relocated to our production centres in China and the United States, which allow us to develop options and variants specific to each market.
Over the past few years, what innovation is the Haulotte Group most proud of?
Pulseo, without hesitation. It is not an innovation, but a new generation of fully electric and off-road booms, which includes a whole series of innovations. Its all-electric design allows it to work in urban neighbourhoods, low-emission areas and eco-construction sites. Haulotte is the first and only manufacturer on the market to offer this new type of machine. The first model (HA20 LE) launched in 2018 is already a success. We plan to launch one new model per year in this new range.