After 17 months of works, Haulotte's new head office, known as H³ (H cube), opened its doors at the end of September in the town of Lorette (Loire), halfway between Lyon and Saint-Etienne on the edge of the A47 motorway.
We interviewed Stéphane Hubert and Patrice Métairie, both members of the Haulotte Group Executive Committee, to give us a behind-the-scenes look at this major project.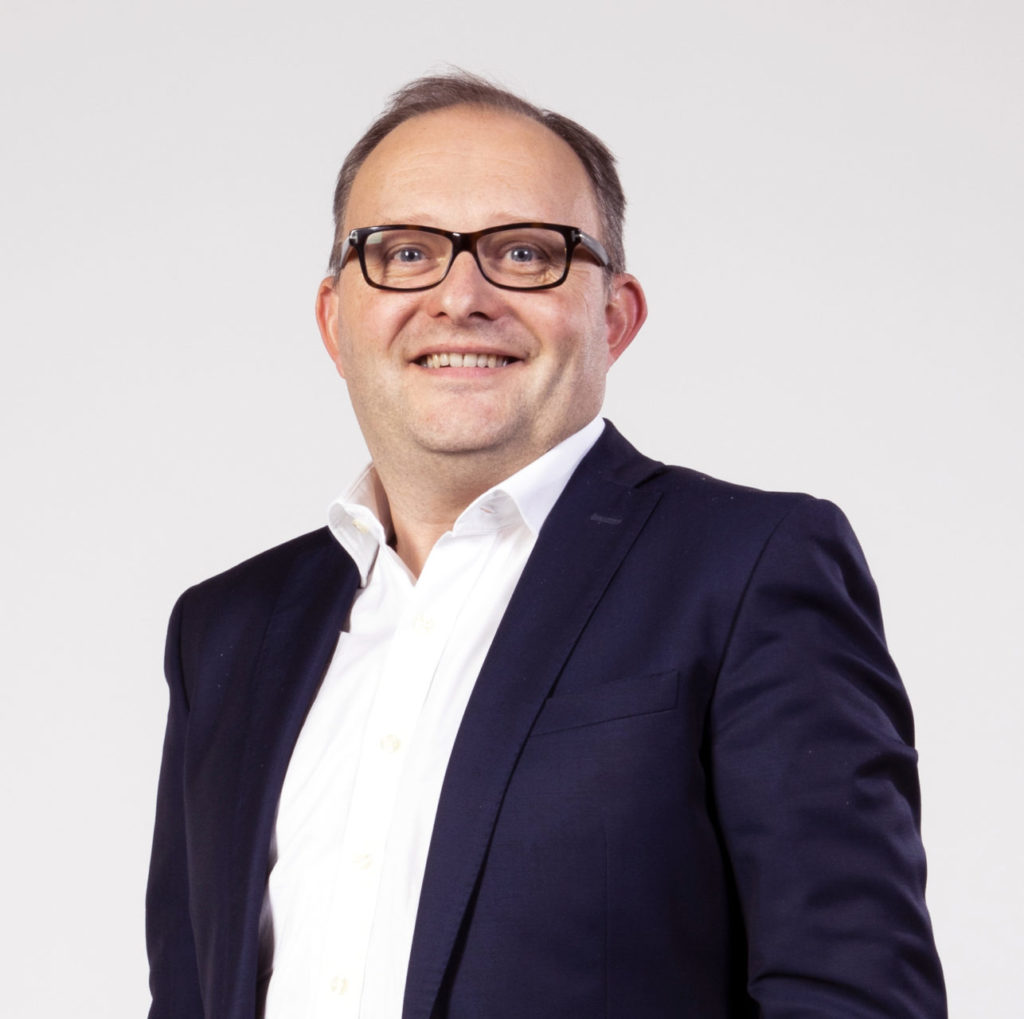 Stéphane Hubert

He is the Group CSO, member of the Executive Committee ofHaulotte Group. He supervises the Sales, Marketing and Service.
Patrice Métairie
He is the Group COO, member of the Executive Committee of Haulotte Group. He supervises the Quality, Purchasing, R&D, Innovation, Supply Chain, Industrialization and Production divisions as well as the 6 industrial divisions in France (3 sites), Romania, United States and China, representing more than 1000 people.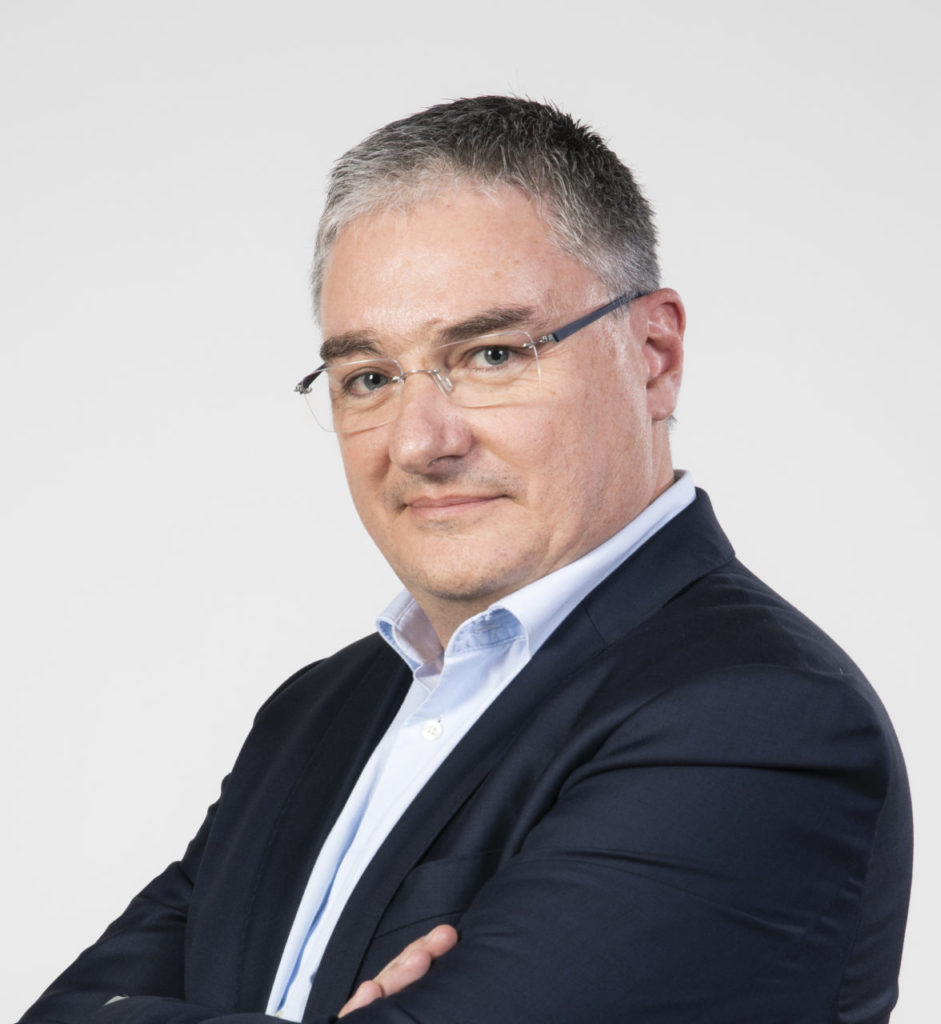 Could you give us a "tour of the owner" and introduce us to the Group's new international headquarters H³ ?
Stéphane Hubert : From an architectural point of view it is a group of 3 buildings with 3 levels spread over more than 5,000 m². Designed by Eutopia, the new head office extends over a 31,000 m² green area.
This new complex has been designed to offer our employees an optimised quality of life at work by favouring spaces for meetings and exchanges. The three main buildings, named « Europe-Africa », « Americas » and « Asia-Pacific », reflect the international activity of the group, which today deploys its teams through 21 subsidiaries around the world. These buildings offer an alternation of formal and informal collaborative spaces: office spaces of various sizes, multimedia meeting rooms, relaxation areas, a large restaurant « Le Bistrot », a beautiful green terrace « Le Belvédère », etc.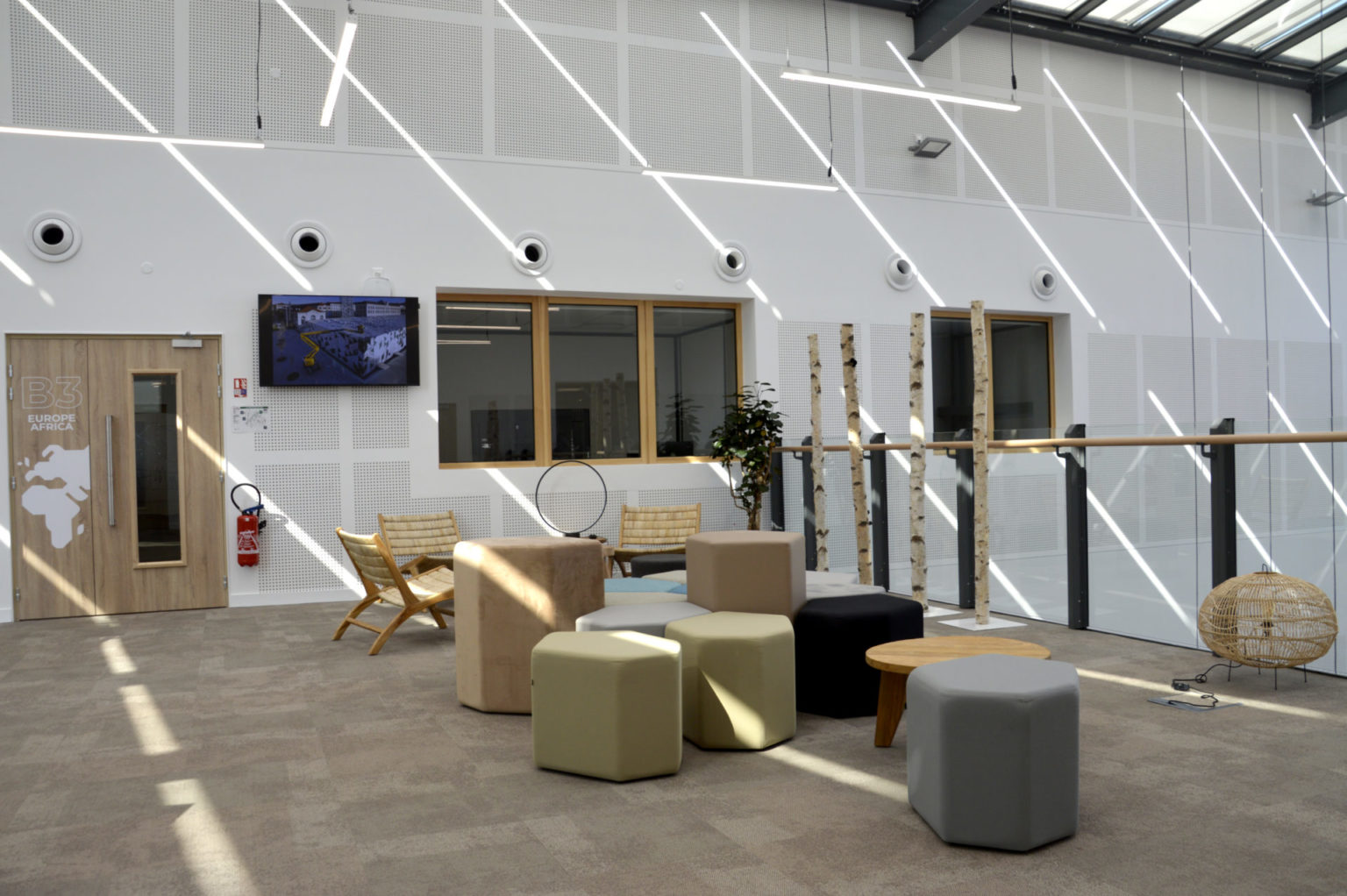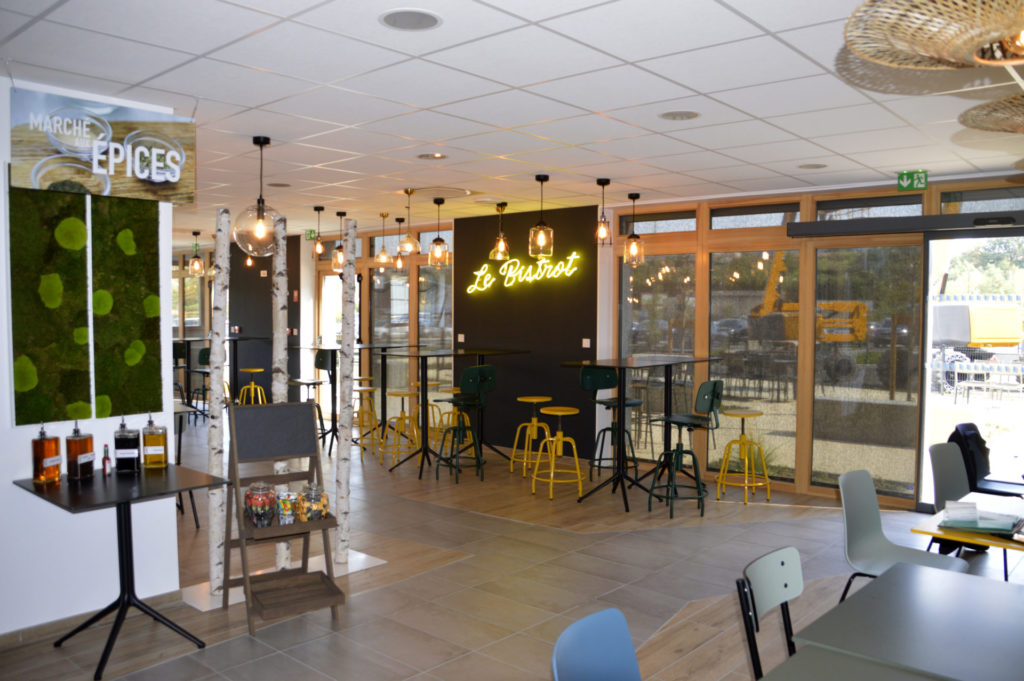 Patrice Métairie : The complex also includes a Business Center to receive our international employees and all our clients and partners and to organise professional events with them. Furthermore, this area is home to our new professional training center : Haulotte Academy.
At the same time, we have developed a large covered area of 3,000 m² dedicated to innovation and prototypes, including a test and validation center directly adjacent to the 3 main buildings of H³. It will enable us, with a collaborative e-Lab and soon a Fablab, to develop the equipment and services of tomorrow.
This innovation space also hosts an indoor/outdoor demonstration Showroom for our customers. It is possible to discover and test more than 20 different Haulotte machines in real conditions.
H³ or H Cube or Haulotte Higher Headquarters, does the name of the new headquarters have a special meaning?
Stéphane Hubert : This was initially the denomination of the project, which had nothing official, but the name has remained. It imposed itself because it made sense in more than one way. There is the « H » of Haulotte of course. Then there's the word « Higher » with a double meaning, referring directly to our profession as designers of lifting equipment, first of all, but also to our values of performance and high standards in terms of both innovation and quality of customer service. Finally, Headquarters, which does not require any further explanation, I think.
Patrice Métairie : Haulotte Higher Headquarters immediately became H³ (H Cube). This essential notion of volume is an integral part of our business. The aerial work platforms that we design offer professionals who use them the opportunity to increase their work volume by taking them to heights that they would not otherwise be able to reach. Then the architecture of the buildings itself, which offers very luminous interior spaces benefiting from numerous places of exchange to encourage collaborative work, places particular emphasis on volumes. The complex is made up of 3 buildings linked together by an immense glass roof and footbridges, which literally evoke these 3 « H's ».
What was the purpose and objectives behind the project for the group's new head office?
Stéphane Hubert : First and foremost, it was a question of bringing together the teams historically spread over 2 different sites in the region. Then it was the right time to do it. We were reaching an important turning point in our development, both in terms of staff growth and strategic orientation. Today Haulotte is an international group whose activity is more than ever focused on its clients, on reception, on the development of new services, on innovation and digital technology, all driven by a strong philosophy of collaborative work. This new headquarters, as we imagined and designed it, is a real showcase for Haulotte's values.
Patrice Métairie : This project for a new site is unique in that it is totally inherent to the group. It is a project that we have carried out from A to Z in consultation with everyone, from the choice of geographical location in a place that suits our employees, customers and partners, to the choice of interior/exterior fittings. For several years now, we have been engaged in a programme of company transformation « Let's dare together » based on collaborative work. Within this framework, each employee was able to freely propose his or her ideas through an initial collective consultation. We then selected 60 specific topics for discussion, which were debated in 11 committees of around ten employees each. These committees enabled us to reflect together on a wide variety of subjects such as customer reception, catering, confidentiality, connectivity, the development of green spaces and respect for the environment.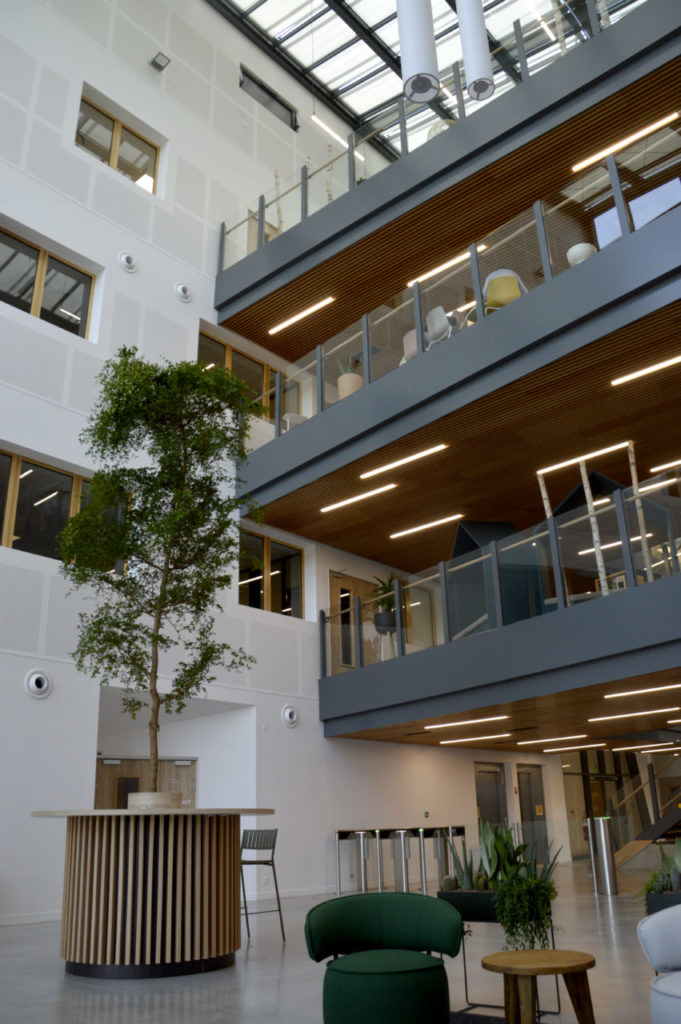 This collaborative approach that you mentioned, in what form has it been translated into practice?
Stéphane Hubert : First of all, we have completely decompartmentalised the teams. There are no longer any departments per profession. The teams are spread across the three buildings and all the Group's business lines cohabit in shared spaces. Each has a mobile work unit, and in the offices each workstation can be connected to the others and to the network. Particular attention has been paid to comfort at work. H³ is made up of 3 fully domotised smart-buildings. Lighting, ventilation, temperature, etc. are regulated automatically. Insulation, soundproofing and acoustics have also been designed to respect the work of everyone.
Patrice Métairie : The environmental dimension has also been particularly studied with eco-responsible buildings, an optimal waste recycling system, a car park equipped with recharging stations for electric vehicles,…
In the end, we wanted a place that was open and focused on hospitality, comfort, well-being at work, sharing, innovation, training and encounters. I think, in everyone's opinion, that the gamble was a success. We will be happy to share these spaces with as many people as possible, with all of you, when the sanitary conditions are once again favorable. We hope as soon as possible.
How to create a smartbuilding
Thomas Chejfec & Damien Poinas interview