Building on the basis of a Haulotte telescopic boom lift, AMBPR and Sercel have designed a robot capable of autonomously washing, blast cleaning and painting ship hulls. This GreenDockRobot is a major industrial revolution for shipyards. Claude Pelzer, Sercel's Vice President of Operations and Director of the Saint-Gaudens site (Haute-Garonne, France), and Stéphane Renouard, AMBPR's CEO, explain the behind-the-scenes of this innovation set to revolutionize high-rise work.
Can you introduce us to your two companies?
Claude Pelzer: Sercel is the equipment division of Compagnie Générale de Géophysique (CGG), a public French company founded in 1931 which is specialized in subsurface imaging for hydrocarbon exploration.
Sercel develops, manufactures, and markets the equipment used to acquire these images: seismic vibrator trucks, sensors for land operations, and antennas for marine operations. Our customers are the service providers of major oil companies.
Stéphane Renouard: AMBPR is currently a small company of 4 people, which I created in 2017 to develop this robotics project designed to paint boats. I spent a significant part of my career working on the robotization of paint lines in the automotive industry.
Then, as I moved into the oil industry, I was amazed to see that ships were still painted by men, a tedious and dangerous job. So, I developed a robotics project to paint ships for a company. When this company decided to abandon this project, I took over the work and created AMBPR in Allevard (Isère – France) with a small team.
How did your two companies come together?
Claude Pelzer: In 2015, with oil prices collapsing, our sector went through a rough period. Sercel embarked on a policy of diversifying its activities to manufacture other products at our Saint-Gaudens site. This is how we became interested in the product developed by AMBPR, which was at the prototype stage.
We acquired a 20% stake in this start-up, which later turned into 70%. This robotics project was in line with our ambitions in terms of environmental and social responsibility. We already work with less harmful materials in oil research, and we try to reprocess our plastics and other waste materials. We are also sensitive to the quality of life and safety in the workplace.
Stéphane Renouard: Since this is a global industrial project, we needed to partner with an industrial partner to develop it. I approached technology transfer acceleration companies (SATT) to help me find an investor and prepare trade shows.
It was during one of these trade shows that I met the Sercel team. We have been working closely for three years now to my great satisfaction.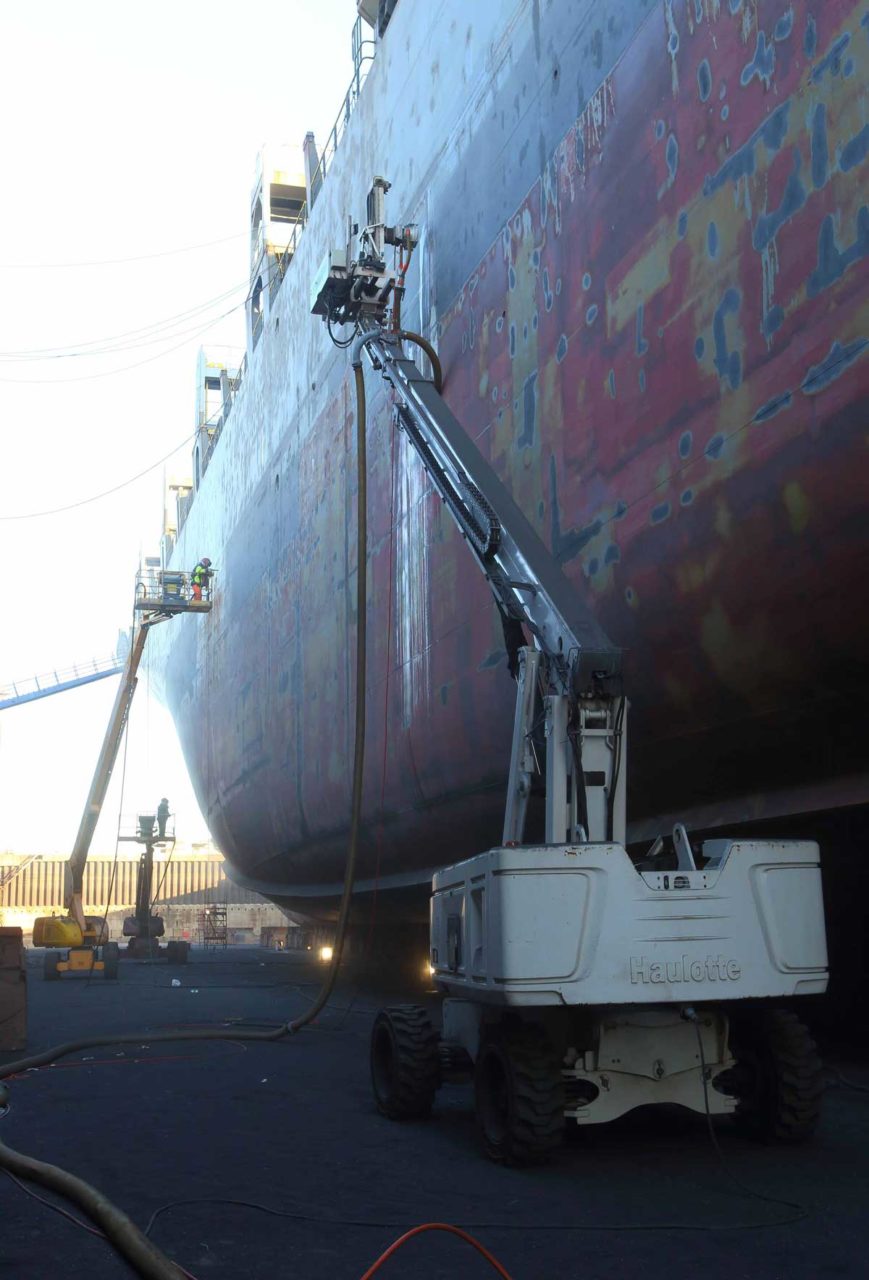 So what are the features of your solution, the GreenDockRobot?
Stéphane Renouard: This is a significant technological breakthrough. Today, boats over 50 meters long are washed, blast-cleaned, and painted by hand in the docks of shipyards. The painters use scaffolding or aerial work platforms to perform these tasks up to 20 meters, or even 40 meters high for the largest ships.
As there are no robots capable of operating at such heights, I had the idea of starting from an existing aerial platform, robotizing it and replacing the basket with a robot capable of washing, painting and blast cleaning while recovering fluid. Unlike cars, which are mass-produced, each boat is unique. Therefore, it was necessary to introduce artificial intelligence and autonomous mobile robotics. This is a world first on large objects at this scale.
What are the benefits of using this machine?


Claude Pelzer: The GreenDockRobot is a major innovation for dry docking management in shipyards. A ship is held up for an average of one week at a cost of about 1 million euros when it is in dry dock. Our robot saves an enormous amount of time, with a capacity of about 150 m2 covered in one hour. All the steps are done at the same time.
As this robot does not emit any waste and all the products are recycled, it allows for co-activity on the site. The shipyard can thus accommodate more boats and have much safer docks. These painting jobs at high altitude are very dangerous. There are frequent accidents which unfortunately can be serious. 
Stéphane Renouard: This robot offers a return on investment in less than 2 years. It reduces staff costs and above all it drastically reduces the consumption of water, paint, abrasives, and fuel. Today, it takes about 200,000 liters of water per day to wash, and blast clean a boat. With the robot, 2,000 liters in a closed circuit is enough, which is 100 times less.
The robot uses 35 kg of abrasive material instead of 80 tons. When it comes to painting, we estimate a reduction in consumption of 5 to 30%. All these gains and savings benefit the environment. Today, applying paint with a spray gun generates a high level of pollution with projections into the air and water. The robot captures the discharges which are then treated.
What were the main difficulties in developing this robot?
Claude Pelzer: The environment is hostile. The machines operate in a « salt fog » and are exposed to significant corrosion. In addition, there is the wind, sand, cold and heat to consider. All the mechanisms and sensors must be well protected.
Stéphane Renouard: We started from scratch. No one had ever worked on high altitude robotics before. The development of the software, which is the heart of this machine, was therefore complex. It should be noted that we do not have a map of the ships we work on and that each ship is unique. The positioning at a height of 28 meters must be extremely precise. To robotize the boom lift, we had to create a machine that works with hydraulic components, which is no longer done in robotics, where electric and pneumatic components are used.
Why did you choose Haulotte aerial work platforms to design this robot?
Claude Pelzer: The first prototype was built on the basis of a second-hand American aerial platform. As a French company, we wanted to work with a manufacturer based in Europe, but with a global reach.
More importantly, we needed a real partner in this adventure to robotize the aerial work platform. Haulotte agreed to support us.
Stéphane Renouard: At Haulotte, we found people who believed in our product and its development potential. We needed to know the aerial work platform closely and be able to interact with it. Haulotte went further and beyond by opening the platform's code and giving us access to all the necessary information. In my 30-year career, I had never seen such a collaboration.
We have a strategic partnership with Haulotte. Today we are working on the HT28 RTJ PRO aerial work platform, but tomorrow we will be able to robotize other aerial work platforms for other uses. For example, we could use a scissor lift to paint the bottom of the ship, which is quite a large area. Haulotte has a very wide range from which we can choose the relevant tools according to the customer's needs.
Replacing humans with robots is often a concern in the industry. What about shipyards?
Stéphane Renouard: The introduction of robots in the automotive industry has been a very sensitive issue in terms of employment, but in the naval industry, shipyards are seeking them for safety reasons. Painting is an arduous, accident-prone activity that is subject to strong fluctuations in workload because it is an irregular activity. It is complicated to recruit workers for such difficult jobs.
 The use of robots will require changes in the organization of construction sites and an evolution in business models. Construction sites subcontract these painting activities to companies that hire workers. These subcontractors are the ones who will be impacted.
Claude Pelzer: Human activity is not going to disappear, mainly because operators are needed to manage the robots and because some parts of the hull cannot be accessed by robots. At the moment, robots can only cover 60% of the hull.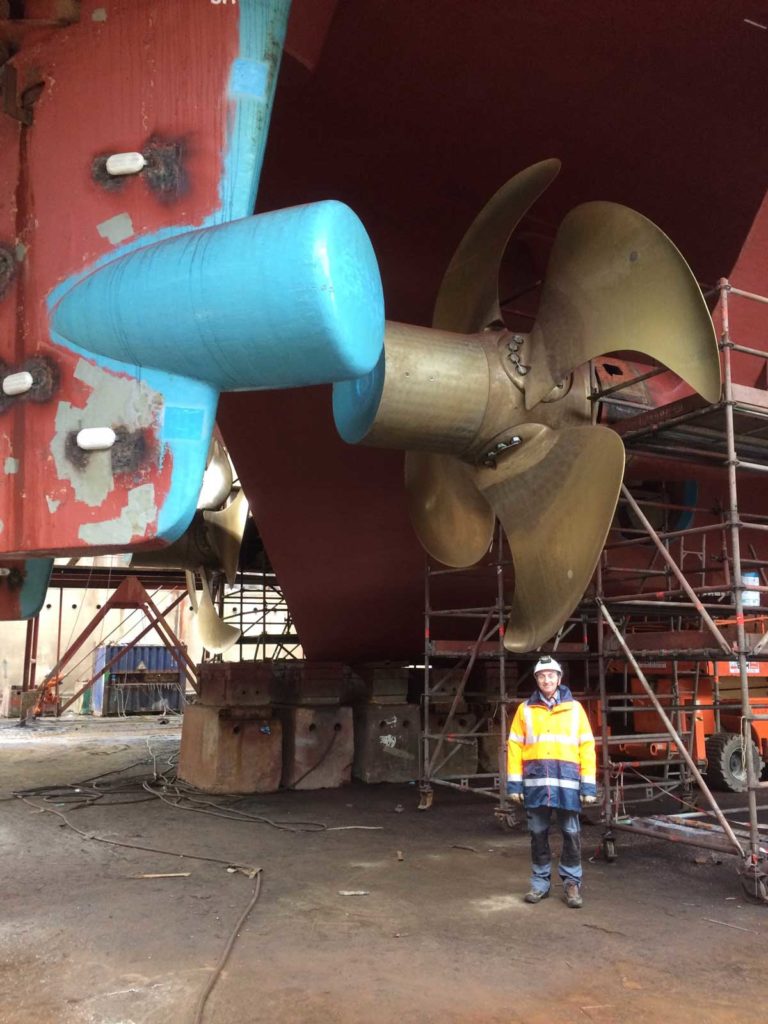 What future developments can you imagine with the GreenDockRobot?
Claude Pelzer: We are starting 2023 with a first fleet delivered to the Damen shipyard in Dunkirk. We are only at the beginning, but in the distant future we can imagine fully autonomous robots with several machines working at the same time on a hull. These robots could also be used to scan hulls. With a precise digital map of the boat, the robot could work more efficiently.
Stéphane Renouard: The robot we have developed is a tool carrier that can have multiple further developments and applications. It can be used for painting oil terminals and building facades as well as for cleaning wheat silos. The automation of work sites at great heights seems unavoidable to me.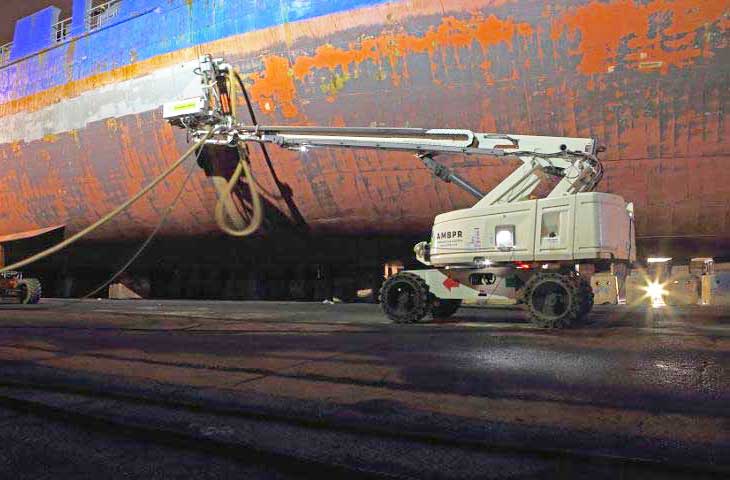 The global shipbuilding and ship repair market is growing quickly. It is expected to grow from $132 billion in 2021 to $175 billion in 2027 due to the increase in maritime trade and fleet renewals for more environmentally friendly vessels.
« The paint market for ships over 50 meters long is equivalent in revenue to the automotive paint market.It's huge. There are currently 100,000 steel ships in circulation protected by 15,000 military ships. Merchant ships are required to be painted every five years in one of the 600 dry docks in shipyards, » says Stéphane Renouard.
« And there is a strong demand from shipyards for robotization of dry dock activities, for economic reasons, but also for environmental and safety reasons, » adds Claude Pelzer.
Sercel and AMBPR are currently in discussions with the Port of Singapore, and shipyards in South Korea and Japan. « Haulotte's international presence is an advantage in our export strategy, » says Stéphane Renouard.
The place of women in the rental business
Testimonial from Alexandria Rawcliffe