More and more MEWPs are used in public areas, where pedestrians and vehicles are present. This proximity is a source of danger: when planning your lifting operation, it is imperative to consider the management of automobile and pedestrian traffic to reduce the risk of incident. This article will provide you with some guidelines for the safe use of aerial work platforms in public areas.


An inspection of the work area, the intended route and the environment by a qualified and competent person should be performed before moving the MEWP:
On the ground: holes, bumps, manhole covers, curbs, slopes, debris, and others…
In the air: power lines, building projections, and overhead obstructions…
It is important to adapt the speed of the aerial work platform to the working environment: when pedestrians are nearby, the operator should shift to low speed.
Visibility is crucial. The operator must be able to keep an eye on people, vehicles, and obstacles around the machine at all times.
To help him, you can:
Use flashing beacons or add lighting so that the machine is conspicuous in low light or bad weather
Use temporary signs to inform the users of public spaces and allow them to move along in complete safety
Use a trained spotter to guide the MEWP and control pedestrian movement. He must be able to communicate with the operator at any time and wear high visibility PPE. The aerial platform must stop immediately if the operator loses sight of the spotter.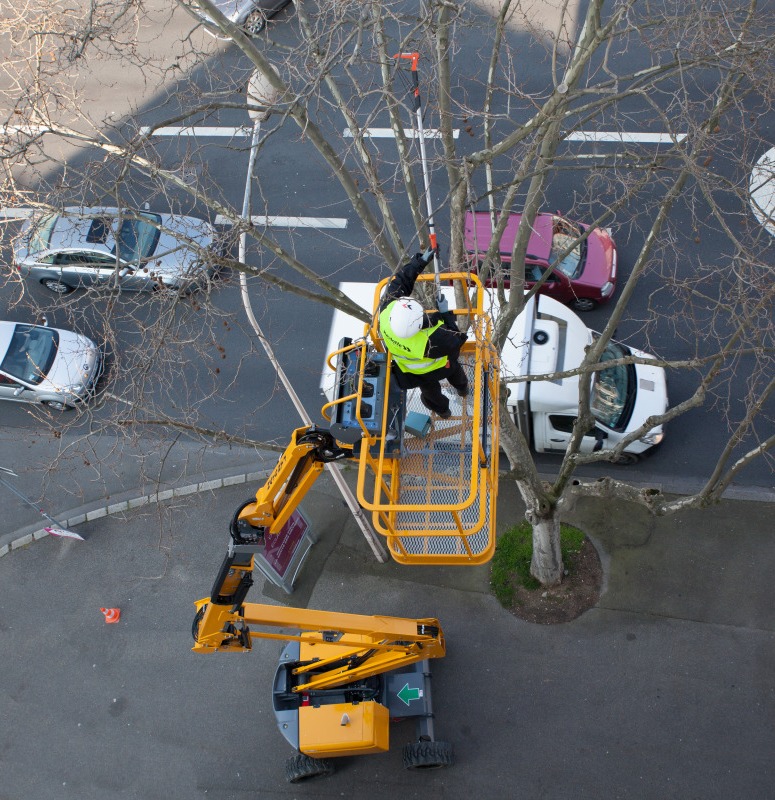 Safely working on or near roads
Working along a busy road is a high risk. Main hazards to consider include road layout, proximity to junctions, traffic volumes… Even if working at height is not directly on the roadway but near it, it is essential to take steps to separate the MEWP's work area from vehicles thanks to a "safety zone".
MEWPs should be positioned so that they do not overhang traffic, including in configurations where it is pivoted or elevated. Careful consideration must be given to the height and size of trucks and buses that may pass.
Work at height should be temporarily signed. Use signs and traffic cones to warn oncoming vehicles and others. The person responsible for placing/removing traffic signs must be trained and adhere to good safety practices. If you need to divert traffic, install temporary traffic lights or close a road, be sure to make your request to City Council several weeks in advance. You can also hire a professional traffic management company to assist you.
It is your responsibility to ensure that pedestrians passing by the work remain safe.
The clear width of the footpath should be 1 to 1.5 meters. If the aerial work platform obstructs a pedestrian walkway, a temporary route must be provided. This route must be accessible to all pedestrians, regardless of their mobility.
You can use cones, barriers or ground staff to guide pedestrians. If it is not possible to provide an alternate pedestrian route, you should seek approval from local authorities for a temporary closure.
To avoid accidents, remember to keep pedestrians and vehicles well separated! Plan different temporary routes, and if this is not possible, consider installing a barrier between the roadway and the pedestrian lane.
Remember to assess the situation regularly: if the traffic increases, stricter measures will be necessary. If the operator feels that their own safety or the safety of others is at risk, they should stop work and report their concerns.
Family business in the access equipment industry
MYMMSA, a family company in Mexico