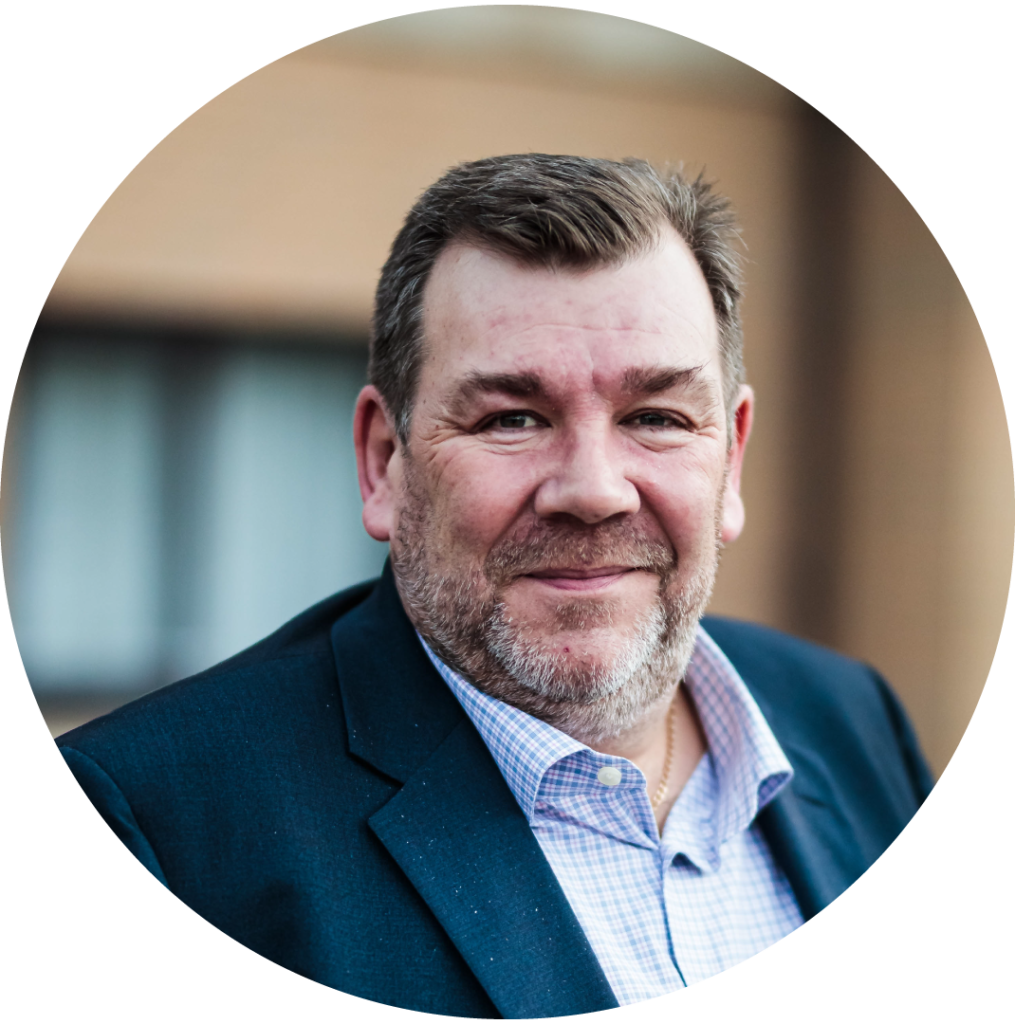 Peter Douglas was appointed to the post of CEO and Managing Director of IPAF on 1 December, 2019 following a long and successful career in the powered access rental business. Peter was involved with IPAF for many years prior to his appointment as CEO. He is a past chairman of the association's UK Council, where he was instrumental in establishing IPAF's accident reporting initiative.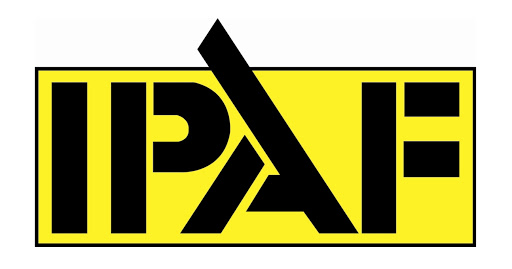 What were the major effects on the MEWP market in 2020 caused by the pandemic?
Looking back at 2020, the second quarter of the year was a tough time for our rental members – as seen in in the first lockdown period in the UK, when everything closed between mid-March and May. In other countries like Germany and Spain, they tried to keep construction going during the first lockdown, so there was rental activity for powered access equipment. Many of our members relied on cash reserves during the worse periods and the various government schemes allowing them to furlough staff.
Almost all training at IPAF centres was halted for 10 weeks so as an organisation, we also lost around 80% of our income during this period. We had been expecting suppressed cap-ex figures from our rental members because of 2020, but in fact since the mid-point of last year, things have been recovering quickly. This was demonstrated by the recent announcement by United Rentals in the US, that it expects expenditure to be $2.0-2.3 billion in 2021, a significant amount of which will be on powered access equipment as they run the world's largest fleet.
In Europe, business is almost back to pre-pandemic levels and investment in new equipment is expected to keep recovering. At IPAF, we have been trying to make sure that we can provide the training the industry needs throughout the pandemic. We already had an impressive e-learning training course available through IPAF but to aid in its uptake, we have developed it further to incorporate facial recognition to prove that a particular individual is actually undertaking the theory part of the training course before completing the practical side of the qualification at our training centres.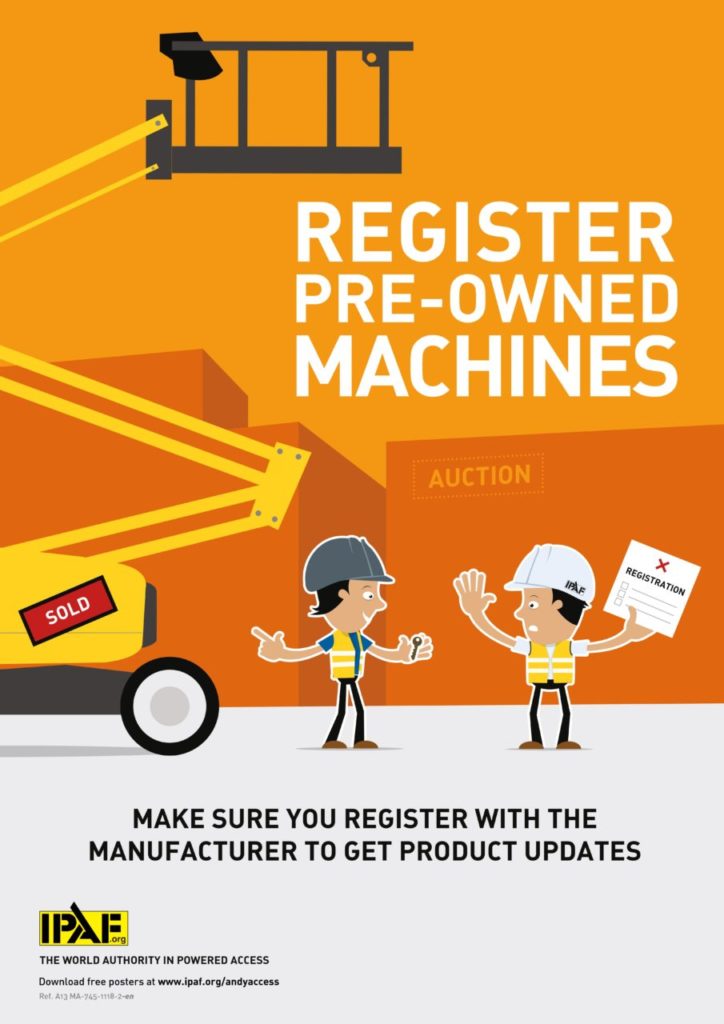 In the UK, in our position as a leading industry body, we lobbied hard with the government and the Health & Safety Executive for help on behalf of our members, to relax the mandatory six-month checks on equipment because of the pandemic, providing a very useful three-month window for existing equipment to be used without the necessary testing.
How do you consider the 2021 worldwide MEWP market, and what would be the major changes according to you?
As evidenced by the United Rentals news, talking to a lot of our rental members, they are optimistic about 2021 as are the manufacturers.
It is important we learn the lessons from the pandemic. Much of our activity was previously based on social gatherings but we have successfully reverted to online methods. We held regular webinars all through 2020, attended by an average of 700 participants in 40 countries around the world (overall, we have 1450 members in 73 countries).
The IPAF's Annual Summit, which was due to take place in London in April 2020, was first moved to October 2020 and then cancelled. We are planning to hold a full virtual version of the event in March 2021 and are combining this with our annual awards ceremony. It takes place on 18th March and the awards will be presented between the keynote speeches. Basically, we are handing out the awards that were judged and decided on last year.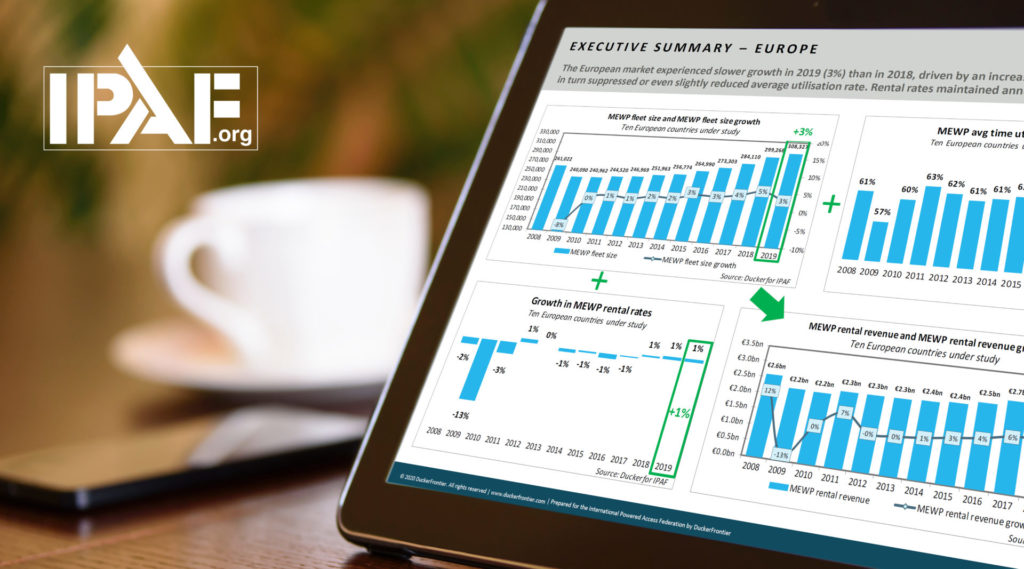 The pandemic has in effect speeded up the digital strategy we already had underway, to make our training process totally paperless. The e-learning course has grown 5-6 times in popularity – pre-covid, around 50-100 people took the course remotely every week but last year we saw up to 500 people per week taking the theory course online, instead of attending it at one of our training centres. We have put in extra staff and other support measures to ensure these courses are delivered online and to the required quality, as many of our training centres are not offering face-to-face courses.
We are also developing our Powered Access operator app that will allow someone undergoing the training course to have their IPAF card, licence and log book stored electronically. It removes the need for plastic cards and physical log books. And has the ultimate goal of making everything much safer. We are hoping to launch the App at the March summit, rolling it out first in the UK in April 2021 and into other territories as the year goes on.
This is all part of our commitment to sustainability and the goal of a totally paperless system, driving everything through tablets and other electronic devices. Another very important consequence is that for the first time ever, IPAF will be in communication directly with end users of powered access equipment. 
What is the rate of adoption of elevation equipment by geographical area - are there wide disparities? Do you also notice disparities in the types of machines used according to geographical regions?
Duckerfrontier research on trends in rental continue to show high penetration of powered access products in Europe and the United States. Powered access is growing fast in China, the Middle East and GCC countries. Whilst South Korea and Singapore are also growing markets, the Far East and Africa have generally lower penetration. The report shows a continuing switch to electric and hybrid machines worldwide in line with ultra low emission policies.
The rental report is extremely valuable for our manufacturer members. It shows the breakdown between different types of powered access equipment – telescopic or articulated booms. In the UK, for example, 83% of booms are articulated, as the lack of space on site and the need for manoeuvrability and the ability to reach over and round obstacles is an important requirement. But in countries like the Netherlands and Germany, it is closer to 50:50 as I assume there is more space to work on sites.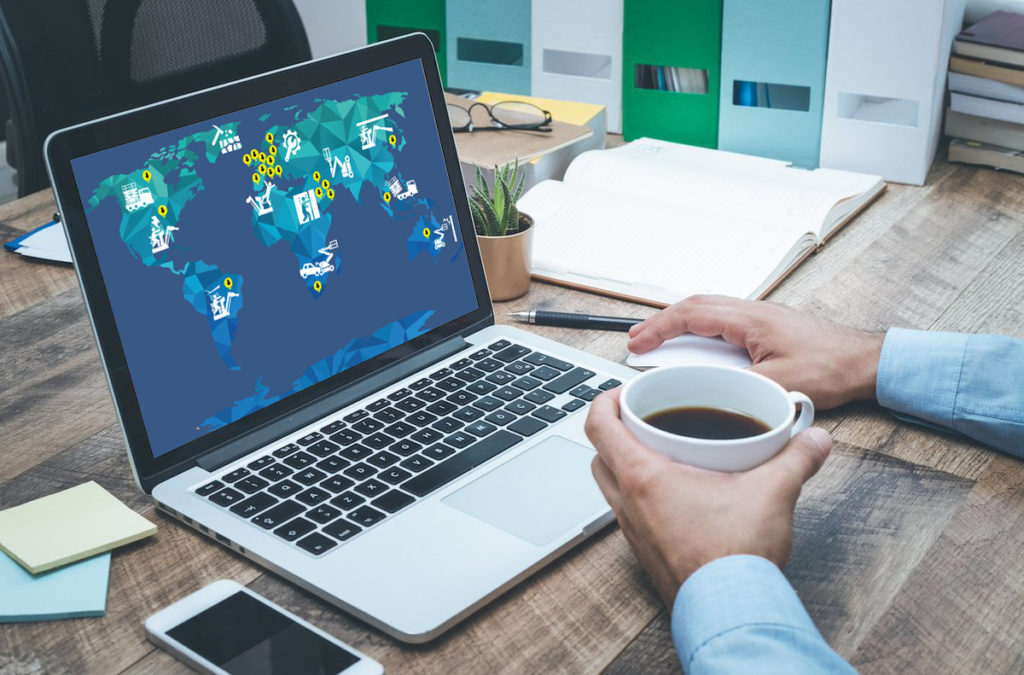 What factors do you think can improve MEWP adoption?
At IPAF, we are entirely committed to promoting powered access equipment as the safest method for temporary working at height. In many countries, this is well accepted and understood. But in others, the fight against scaffolding and other methods of working at height carries on. There is increasing penetration for the higher lift machines for work at greater heights, but for products such as scissor lifts, there is still a lot of work to do to increase penetration in markets like the Far East and Africa.    
IPAF is doing a great job to educate people, how can manufacturers and rental companies support your actions, and, above all, what can they put in place at their level?
As we are a not-for-profit organisation the actions of our members has been fantastic. I believe we should promote as much as we can the work that IPAF does. Not only internally to its members so they see IPAF as much more than just a training organisation, but also industry-wide so there is a better understanding of the safe use of equipment by customers worldwide.
We aim to offer more opportunities for our members – to join training initiatives, speak at events and sponsorships. We have a relatively small team at IPAF and we are strongly encouraging our members to start up and join IPAF committees and Regional councils in different countries around the world.
Haulotte has been very instrumental in helping IPAF to enter new countries, as the company normally has products already working in these areas and is a great source of information for IPAF about these new markets.
We recommend our members to join the relevant industry organisations in different regions and countries around the world. We also encourage members to join the working groups in IPAF itself, to be part of our Training committees and other steering groups, including our new Manufacturers Technical Committee and Safety Committee.
Haulotte was the first manufacturer "IPAF sustaining member". Could you explain what this means?
Our "IPAF sustaining member" is a relatively new category of IPAF membership for organisations that support IPAF's aims and objectives at an enhanced level. It emphasises a member's commitment to the ongoing aim of promoting the safe and effective use of powered access worldwide.
Haulotte has always shown these values and was the first manufacturer to be awarded "IPAF sustaining member" status in September 2018, following the company's announcement that all future new products would be electrical, or hybrid powered, which aligns with our commitment to sustainability in every area of IPAF's activity.
It also acknowledges Haulotte as one of our biggest geographical members. In fact, the company has recently added five new branches including the Middle East and Asia to its Group membership.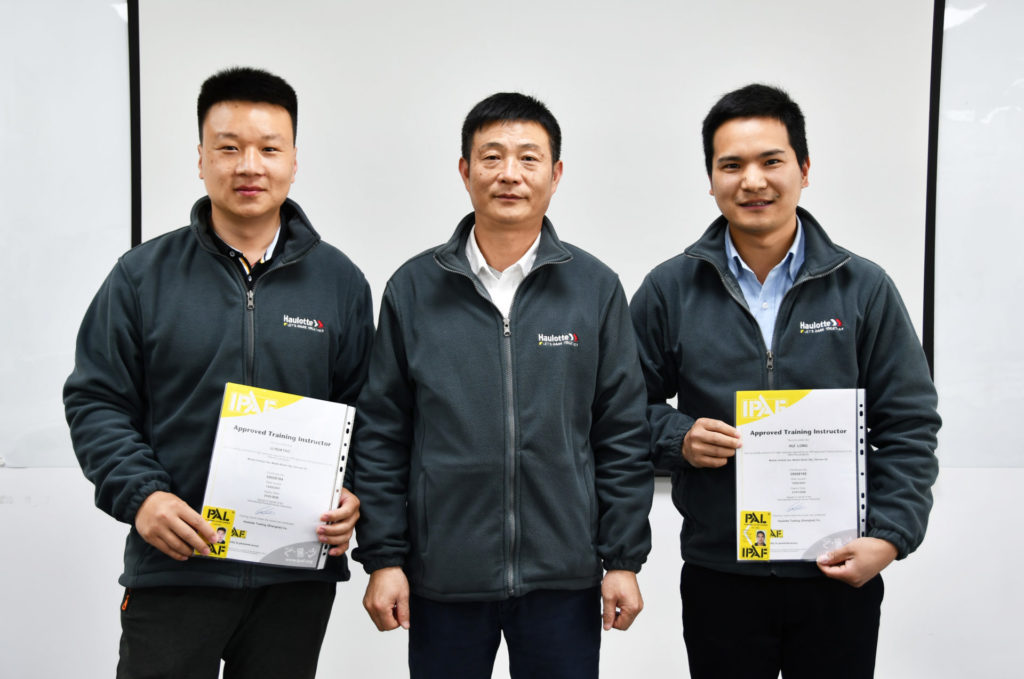 The accolade of "IPAF sustaining member" has been awarded to only four members so far. It also brings additional benefits such as free attendance at IPAF events/exhibitions, keynote speaker platforms, sponsorship opportunities and so on.
What is your roadmap for this year, and the coming years at IPAF?
I have touched on some of our plans already, but to meet requests from our members, we will be launching a new Site assessment course at the end of March 2021, aimed at identifying and providing clear guidance on how and why to select the right MEWP for a work at height task.
We also want to promote much increased reporting of accidents and near misses when using powered access equipment, so we can continue to develop our training courses to try to ensure that these incidents do not happen in the future. We have been collecting data on accidents for nine years now and we want to expand this as much as possible.
IPAF is also fully committed to attracting new talent to the industry. In the UK, for example, governmental changes may lead to a reduction in construction apprenticeships, so at IPAF, we are stepping up to help fill any void by launching a new 3-year Powered Access Apprenticeship in April 2021.
SIGMA 16 project team confidences
Behind the scenes