In this alphabet book, we decided to associate each letter with a people and material lifting equipment term. From Activ'Shield Bar to zero tail swing, let's go back together on some Haulotte technical words. This list is obviously not exhaustive ! 😊
The Haulotte Activ' Shield Bar system provides the highest level of safety for aerial platform operators. In an entrapment situation, the operator is pushed towards the bar and the machine stops automatically. The large clearance space, the Safety Gap, protects the operator from the entrapment.
BIM (Building Information Modelling) provides digital representations of mobile elevating work platforms on a jobsite as well as relevant dynamic information. Thanks to these 3D model-based objects, architects, engineers, and construction companies can accurately visualize their project in a virtual environment.
Service contracts allow you to keep the focus on your business. They increase the equipment's lifespan and residual value as maintenance is handled by Haulotte experts.
Haulotte Diag is a free diagnostic tool that allows remote access for maintenance technicians to diagnose all Haulotte machines. It works in conjunction with a wireless VCI box (Vehicle Communication Interface).
Haulotte worldwide after-sales team provides local, rapid and efficient service. They are perfectly trained to repair or maintain your machinery according to Haulotte specifications.

On HTL, flow sharing is a smart management system of the hydraulic flows which enables proportional control.
Machines with high ground clearance makes life easier on a job site. It simplifies manoeuvring, enables the operators to get over obstacles and protects machine components.
An engine hour meter records the time the equipment has been operated. It is used for warranty and maintenance scheduling in both combustion and electric motors.
Innovation is part of Haulotte DNA. The Group is continuously developing new valuable technologies to improve working conditions or machine operation.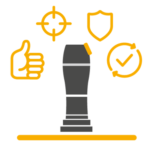 Thanks to Haulotte joystick, control and manoeuvring aloft are intuitive, secure and precise. Highly resistant, they are compliant to CE certification and can be used in extreme environments, without short circuit.
K as Kit for hostile environment
Dust, sand, salt fog, humidity or fine particles may cause irreparable damages on booms. Hostile environment kits protect key components such as control boxes or boom sections from debris and oxidation.
L as Load Moment Indicator (LMI)
Haulotte LMI (Load Moment Indicator) gives real time information about the HTL longitudinal stability conditions. It continuously informs the driver about the position of the load thanks to a load chart and includes an automatic cut off when operating with a tilting risk.
Maintenance is an important part of the Total Cost of Ownership for a machine. Haulotte has initiated a long-term maintenance standardization and optimization process to significantly machines maintenance costs. 
See you next week for the rest of Haulotte's alphabet !