MSDs are one of the most common work-related injuries. They are mostly caused by repetitive movements and workplace design. MSDs are most commonly observed in industries like manufacturing and construction work. Employees are exposed to prolonged physical strain on certain parts of their body.
MSD stands for Musculoskeletal Disorders or also known as repetitive motion injury.
In fact, it is defined as soft-tissue injuries caused by sudden or sustained exposure to repetitive motion, force, vibration and awkward positions. It affects multiple parts of the body such as: muscles; nerves; tendons; joints; and cartilage in the upper and lower limbs, neck, and lower back.
MSDs are commonly observed in workers who are required to perform repetitive movement: workers in the manufacturing and construction sectors are at a higher level of MSD risk.
Whether it is installing materials, applying products, digging or using manual tools (trowel, hammer, flashlight, etc.).
Doing the same motions over and over again places stress on the muscles and tendons.
This repetition can lead to MSDs, the risk increasing with the frequency of repetition and the
duration of the action.
Repetitive or sustained awkward postures
Such as lifting a door or installing a roof.
Certain motions and prolonged work positions can be particularly demanding and generate
muscular and articular damage.
Working with your arms raised or extended, kneeling, lifting a load above the head, and moving materials around, fall into the category of awkward work postures and gestures.
Forceful exertions and increasing force means increasing body demands
Such as greater muscle exertion along with other physiological changes necessary to sustain an increased effort.
Prolonged or recurrent experiences of this type can increase fatigue and may also lead to musculoskeletal problems when there is inadequate time for rest or recovery.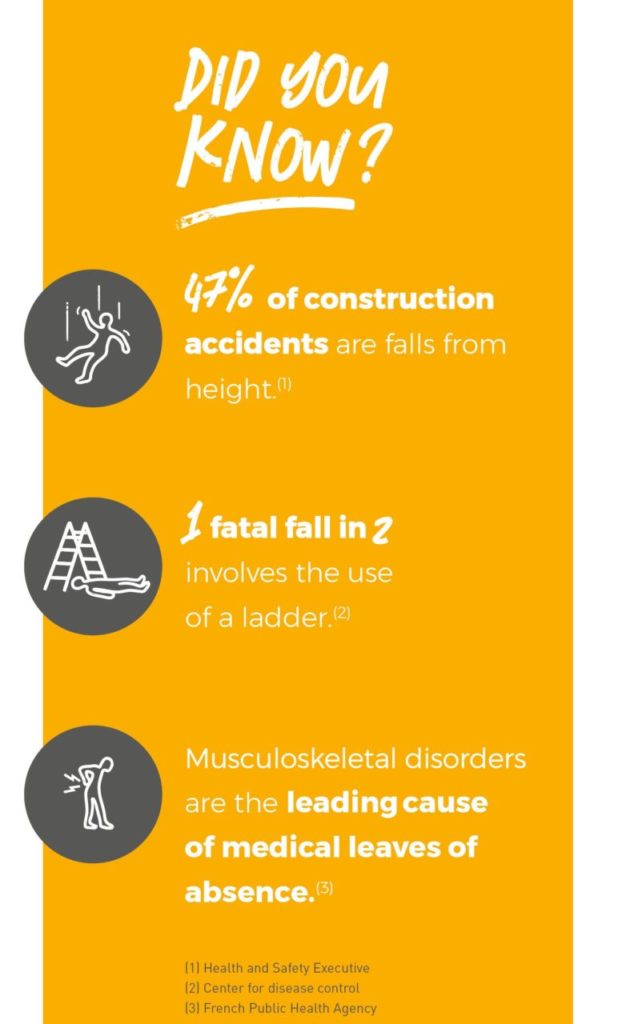 What are the consequences?
Pain for the employee
Absenteeism and departure
Loss of productivity
Loss of production capacity: deadlines, capacity and quality
Loss of efficiency and flexibility
Indirect and direct costs for the company
Ladders VS Low-Level Access Platforms
Misuse of ladders can create hazards for a worker, for example:
Impair balance, which increases the risk of falling
Contribute to a sprain or uncomfortable position, which increase the risk of musculoskeletal disorders
In most scenarios, using a ladder is not the safest way to work. In fact, the Low-Level Access range represents a simple, safe and efficient alternative to ladders:
ERGONOMIC WORKING POSITION
Low-Level Access platforms significantly improve the working conditions and well-being of operators. They eliminate fatigue associated with repeated climbs and descents, while helping to lower the risk of musculoskeletal disorders.
Offering a stable platform with a guardrail, LLA platforms reduce the risk of accidents, which are sometimes costly.
With their load capacity up to 240kg, Low-Level Access Platforms facilitate the transportation of numerous tools and materials. Therefore, the number of return trips between the ground level and work area is reduced. Compared to ladders, the large platform enables operators to work in 360°, safely.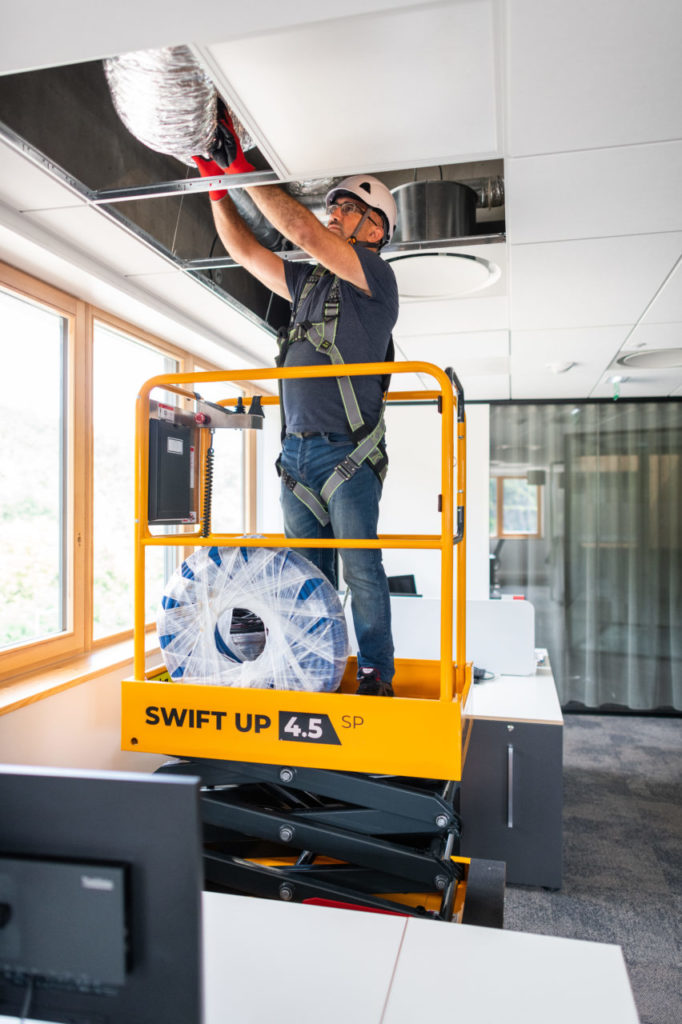 In order to reduce costs related to medical leaves of absence and to increase productivity, companies are taking additional measures to limit the use of ladders in the workplace. That is why new solutions such as Low-Level Access platforms are now available on the market.
Compact and lightweight, Low-Level Access platforms are quick to set up and offer a large working platform. Providing increased safety, they minimize the risk of falls and significantly reduce fatigue for operators.
The street art takes some height with MEWPs
Let's discover the Street Art Fest Grenoble Alpes and how MEWPs became an essential and mandatory equipment for street artists.