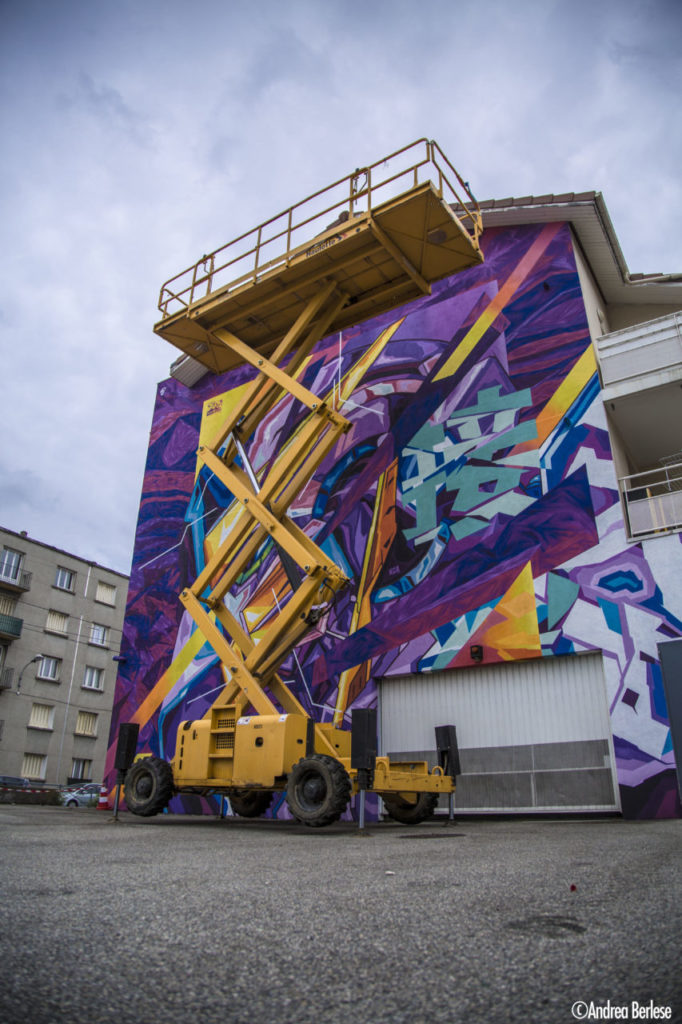 Launched in 2015, the Street Art Fest Grenoble Alpes has changed the face of the city with hundreds of facades and gable walls transformed into colorful murals with the help of aerial work platforms. Meeting with Jérôme Catz, street art specialist and founder of the festival, and Benoit Debauge, technical director of the event.
In less than ten years, Grenoble has become a reference for street art with its 335 pieces of art painted on the walls of the city and neighboring municipalities. All of them were created during the annual editions of Street Art Fest Grenoble-Alpes. The festival was launched for the first time in 2015 on behalf of Jérôme Catz, a former professional snowboarder who opened the Spacejunk art centers in Grenoble, Bayonne and Lyon (France).

Every year in June, more than fifty artists get together and attend the festival – all coming from different places in the world and backgrounds. For them, it's the perfect opportunity to share their creativity with the rest of the city by displaying their masterpieces.
« The idea was to expose permanently street art in the city center, and not typically in the suburban areas where we usually see it. In eight editions, we have built up a real artistic heritage, » says Jérôme Catz, who is also the author of « Street art mode d'emploi » (Flammarion).
MEWPs are an essential instrument for murals painting
Art pieces of all sizes have been created by graffiti artists, stencil artists, gluers and muralists, who paint gigantic murals of dozens of meters high. In October 2022, Australian artist Guido van Helten, a specialist in large-scale murals, gave a new perspective to « Avenue La Bruyère » by painting a 50-meter-high wall. It is today the highest fresco in Grenoble. For such a remarkable piece, there was a need for proper elevating machines.

« A few decades ago, the first painted walls were made with scaffolding. For muralism, a street-art trend that developed in the 1990s, aerial work platforms have become a must. There is a wide range of sizes, versatility, and these machines are available everywhere, » says the festival director.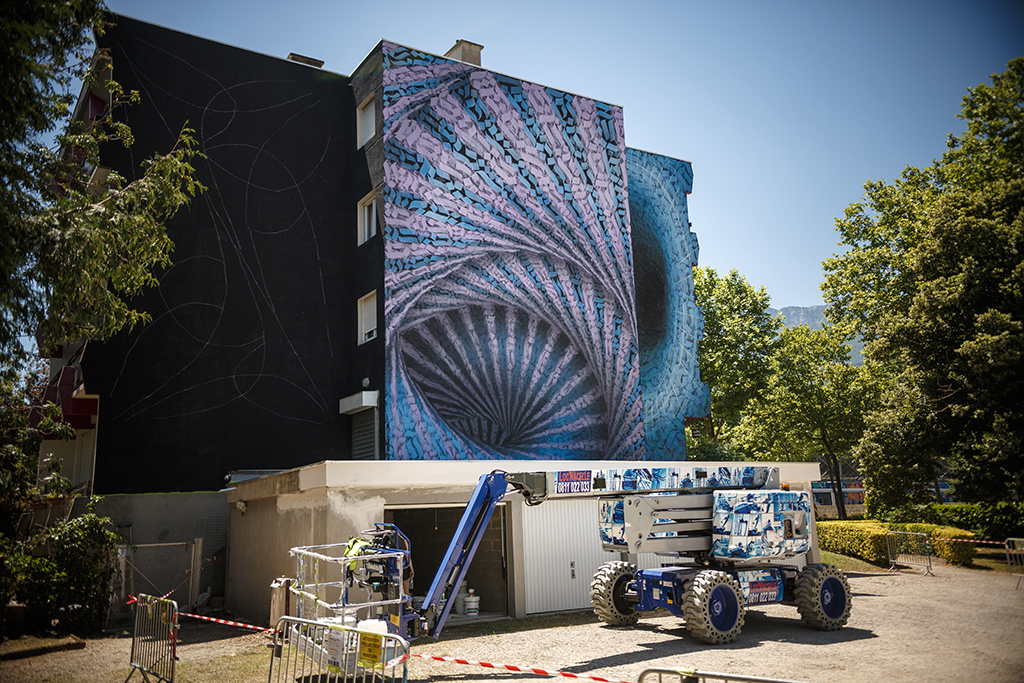 The festival, whose next edition will take place in 2023 (from May 27th to July 4th), will require about twenty aerial platforms. « Before choosing the right machines, I usually go on site with the artists, and we take measurements. I need proper guidelines on what will be done and how », explains Benoit Debauge, technical director of the festival. The Street Art Fest Grenoble-Alpes uses many solutions, from suspended platforms to heavy-duty platforms, including scissor lifts and self-propelled platforms.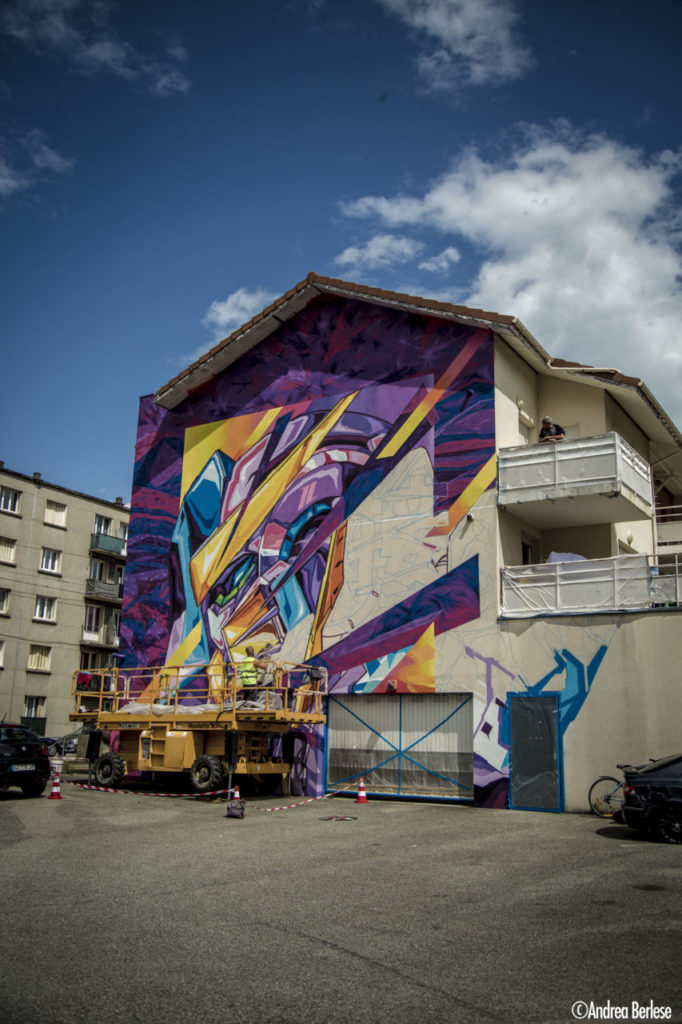 Trained artists and crews
« Simply, we need machines that are easy to use and intuitive. The Haulotte HA16RTJ is definitely one of these. At the moment, we use diesel machines because they are more convenient, but hybrid aerial work platforms could allow us to work at night. We are also looking for aerial work platforms with a wider outreach. Once we painted most of the walls in Grenoble, it became difficult to access the ones that remain available" says the manager. 
The festival has built partnerships with several MEWP rental companies, including Loc Nacelles in Bourg-en-Bresse, which also provides all mandatory training to drive aerial work platforms, including near electrical installations, through their partner « Le Centre Formation ». 
« The festival teams are certified Caces* and we also train artists so that they are autonomous and safe on the platforms, » summarizes Jérôme Catz.

The entire group of artists gets a safety training when they arrive, and a one-hour-course on how to use their platform « The volunteers are also trained. They are taught how to lower the basket from the bottom station, for example, » Benoît Debauge points out. « For the artists, having a Caces is an additional skill and the assurance of being able to create in complete serenity ».
Today, muralism is very popular, and more and more cities, condominiums or landlords are asking for street artists to enhance their heritage. « It is a very nice and creative way to change the image of a city, of a district, or even of a building for those who are living in. We usually team up with residents and school » explains Jérôme Catz, whose teams have been asked to create frescoes in the new town of Rillieux-la-Pape (Rhône). 
While the festival attracts the biggest artists in the industry (Ernest Pignon-Ernest, Shepard « Obey » Fairey, Inti, etc.), it has also created a new dynamic in the region with the emergence of local artists and the creation of a network of partner companies (80% of its budget comes from private sources). Etien' and Snek, two figures from the Grenoble street-art scene, have founded their « Mural Studio », a collective that paints facades all over France using platforms.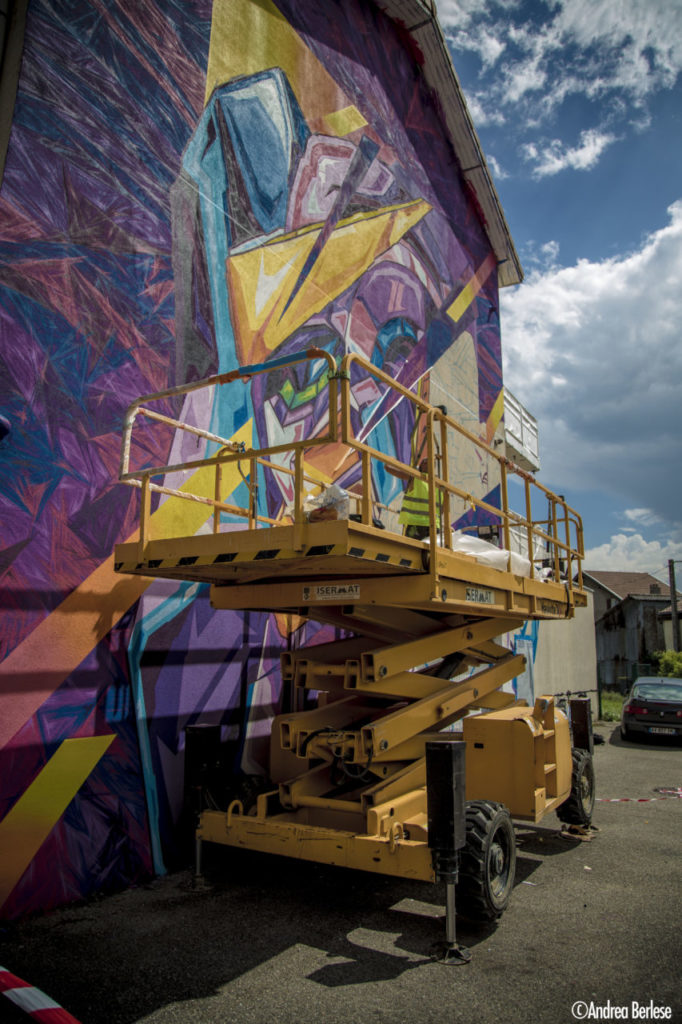 Street Artists on this article : Serty 31, Rosie Woods, Izzy Izvne, Telmo & Mie. Photographer : ©Andrea Berlese
*Caces : « certificat d'aptitude à la conduite en sécurité » french certificate of competence equivalent to PAL Card.
Risk of falling: safety gains to save you pain
In 2021 falls from platform is still the second main cause of fatal incident!