4Hire, a plant equipment rental company based in Jersey, committed to the environment, and reducing pollution in the Channel Islands.

Nigel Blandin, the managing director of 4Group, shared his insights with Haulotte.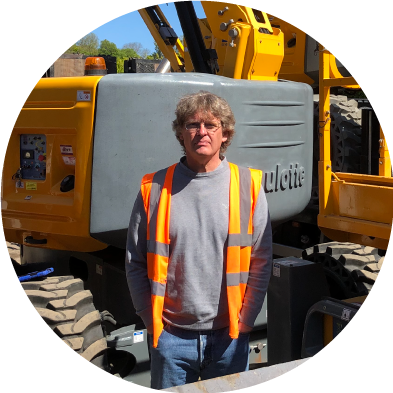 Could you please tell us more about 4Hire activities?
We are a general tool and equipment hire company. We hire anything from power tools, access equipment, and excavation equipment. We operate the largest fleet in the Channel Islands, working both Jersey and Guernsey, the two largest islands in the group. We have been in existence for 15 years now. We are part of Gap Group tool hire company, one of Britain's largest equipment rental providers. We run many mobile access equipment, manual equipment, and access towers through lifts and articulated booms up to 21 meters. We try to have a very diverse fleet because we operate on an island. It is a restricted area, so we need a versatile fleet of equipment to do many different operations.
What are the key success factors doing business, especially on an island?
We must give the best service possible. The service includes the quality of the equipment, help our customers achieve their goals, and the best value for the money they spent with us. Service is the most important thing. We work very hard to improve all the time. Our company's motto is to be better tomorrow than we were today. When you live on an island, you must provide solutions to your customers, and we have much experience in this.  My family has been in this business for 100 years, and it is all about providing a solution to the customer. If we were in France or England, we could call somebody, and they would send someone down the motorway to us, and we would have it in a few hours. We are in the middle of the sea, so it doesn't work that way. That is why it is vital to provide solutions to our customers.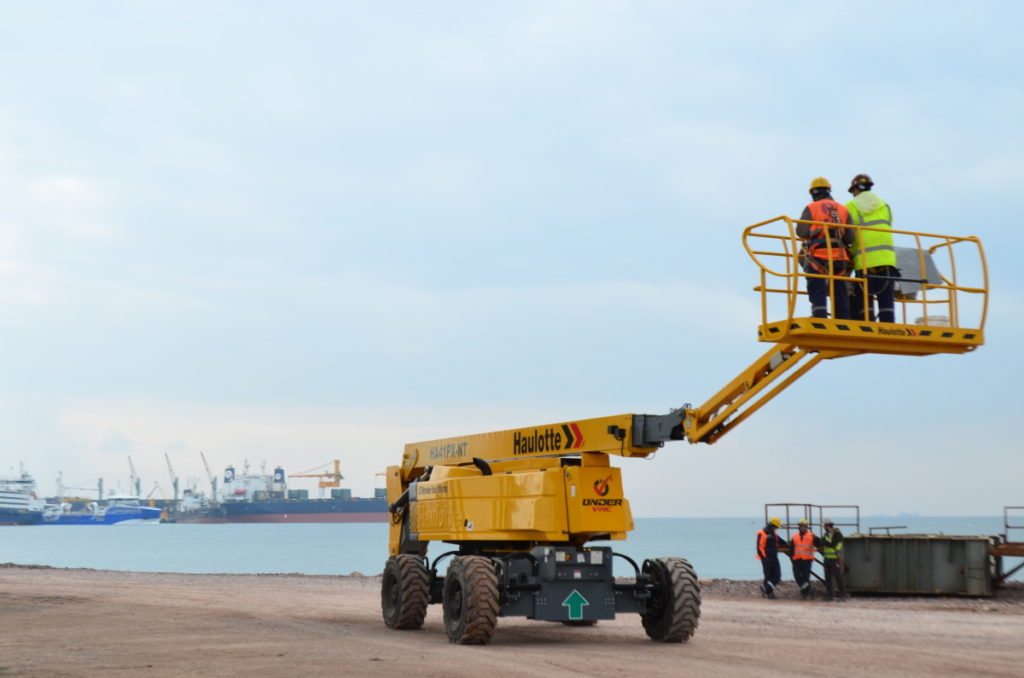 Are digital innovations in MEWP and more widely in equipment key choice criteria for you or your customers?
They are essential to us, less critical to our customers. The ability to have access to our equipment and support at any time is necessary because the equipment becomes more and more complex. The customers aren't interested. They want a piece of equipment to work and that they can use quickly and safely. It is up to us to make sure that happens, so the digital innovations come in handy, and they are essential to us.
What is the secret of your success?
We have two!
We encourage the use of MEWPs by having the latest machines available to our customers. We are replacing most of our fleet as soon as the new Haulotte machines are available with the electric drive and the hybrid engines. All this to offer our customers the latest quality equipment. 4Group is two primary businesses: 4Hire, the rental, and 4Safety, which trains people to use equipment safely.
We are the largest training provider in the Channel Islands. We won't rent the equipment if we cannot train on the equipment to ensure people use it safely and within the law's requirement. We develop the market by training customers on the correct use of the equipment and show them the best utility of whatever piece of equipment they want to rent. If they don't know how to use it properly, they cannot get the most effective use and production out of the machine, so it doesn't appear good value to them. By training, we increase the perception of the reasons for using that machine, and we give them a better deal for the rentals they do with us. People may even hire machinery from somebody else, and they come to us to train on equipment, use our machinery and then change and come rent from us, which is good. Part of the role of training is to promote our rental business.
What is your vision of the market for tomorrow?
Our project is to be carbon-balanced by the end of 2022. That is why we are very excited that Haulotte is committed to electric power machines with the range extended. I particularly liked Haulotte's statement 2 years ago, where they said, « we are no longer going to develop this kind of machines. We are committing towards the sustainable future. » The environment is the most important topic we have in our industry. By saying that and doing it and delivering the firsts machines, we committed our future to Haulotte. We already have two 20 meters machines, and we will receive some scissors next month, I think, and then the booms at the end of this year.
Haulotte has done what they said they were going to do, and we have a saying here that says, « They bet the farm on it, » they put everything behind this idea. We can say to our customers that all your access equipment requirements are covered under a sustainable plan. We can give you electric power machines. You can use those without creating pollution. Our industry is a huge polluter, and as a rental provider, we don't make the pollution. Still, we facilitate that pollution by giving equipment to our customers to use. They are the ones that use the equipment and therefore create the pollution. If we can provide them more sustainable equipment to use, they are not making that pollution. Our challenge is to convince the customer that this is the way forward, and when they get to use the equipment, they all agree. Until they use it, they are very cautious and worry about it, but once you give them the equipment, they are all like yeah, this is the way to go. Our vision is to educate our customers and help our suppliers put more sustainable products into the marketplace.
What are the key drivers to increase the MEWPs' usages, according to you?
It is a triptych.
Regulation and training of the user, so they have to use MEWPs. It is more common in Europe and the UK, it is becoming common in our market, but it still needs to grow. The acceptance that the MEWP is the correct way to do the job is the first part.
Active safety is also an essential part of it, so the machine doesn't allow the operator to make mistakes because people worry that they would get into trouble. Training overcomes a lot of that, but they still might make mistakes.
The ease of use is essential. The improvement in the control interface between the operator and the machine would give the operator more confidence, making them use the machinery much more often. I think that is the most significant factor that could change the customer experience.
How would you describe the relationship between Haulotte and you?
It started in 1999, for technical reason, we have chosen Haulotte because their HA18PX had a continuous rotation, which was not available on the competitors' range.
And it continues because of our human relationship!
The relationship we have with Haulotte is people. We know the people, Keith, Natalie, Andy, Adrian. We know them, and we can talk to them. They have become friends over the years, and that is important for us given that we are on an island and don't see them very often. It is easy to feel lonely with the manufacturers. We are a small market. It is much trouble to work in Jersey, so many manufacturers are not interested. Haulotte is interested in us, and that is the relationship we have with them. We almost become part of Haulotte. That is the easiest way to see how we are and, we talk to them like we were in the same building but on the phone.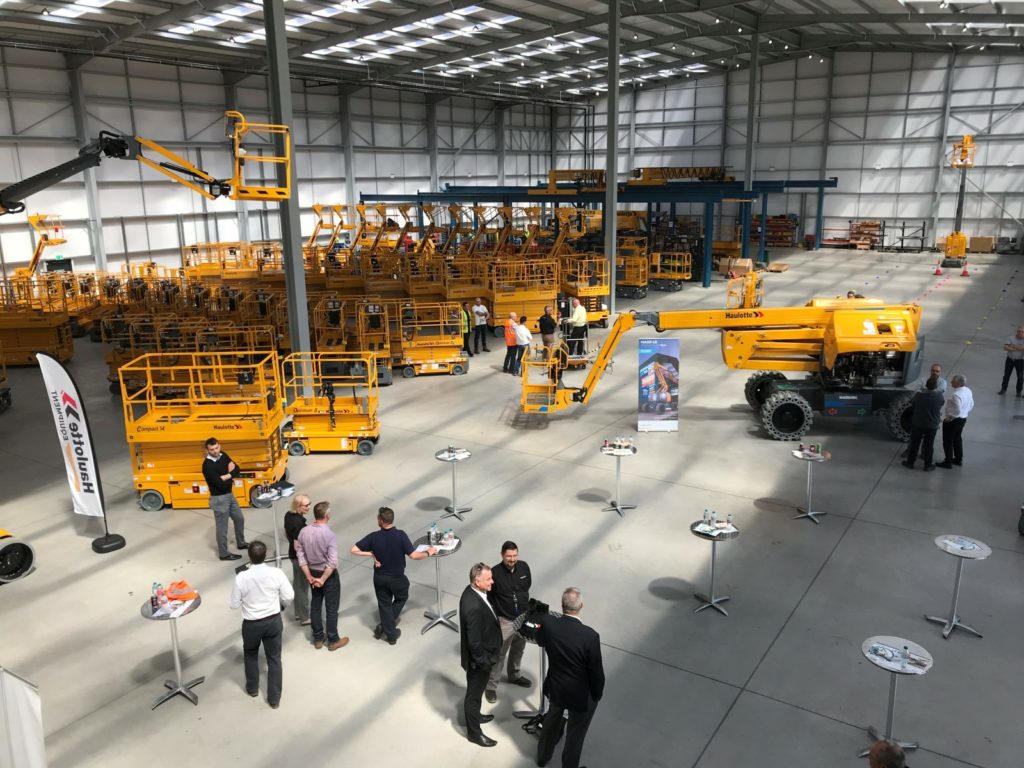 EquipmentShare, an equipment and digital solutions provider
Meeting with the President, Willy Schlacks