You have work to do at height, and you don't know how to secure your site best? Are you looking for a solution to work at height in good conditions?
To guide you, we explain why a boom lift is the best option for your work and give you some tips on choosing a suitable model.
A boom lift to secure your site
First, a boom lift will be the safest way to work on your site. Instead of traditional ladders or scaffolding, you will have great comfort in working on a boom lift, and you will optimize your safety. In addition, there are many models of boom lifts available so that you can find the one that is perfectly adapted to your work site for even greater safety.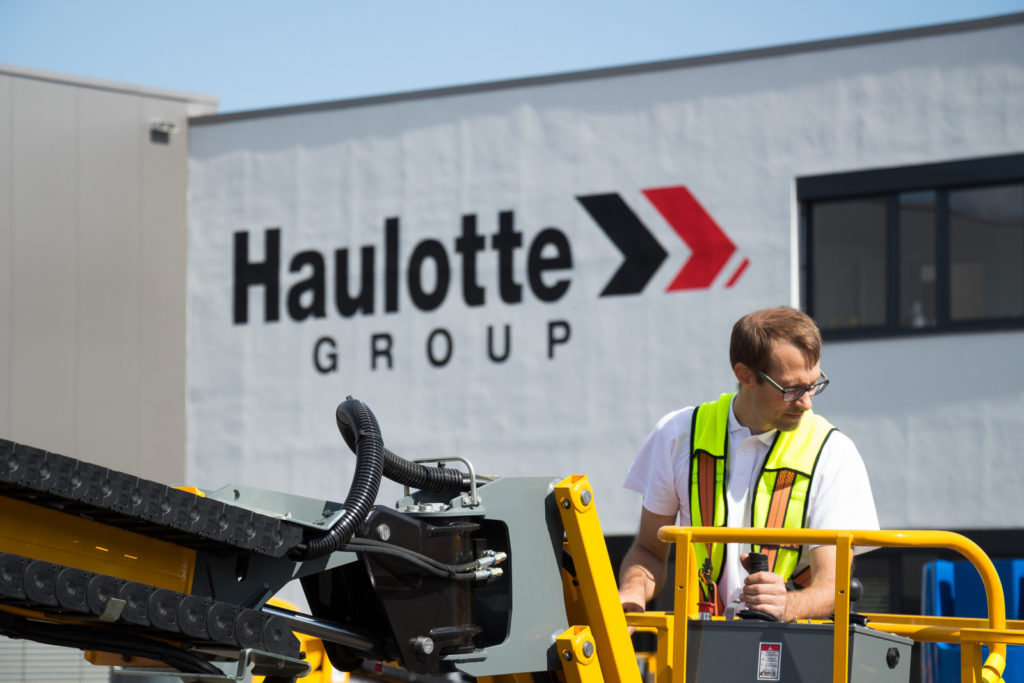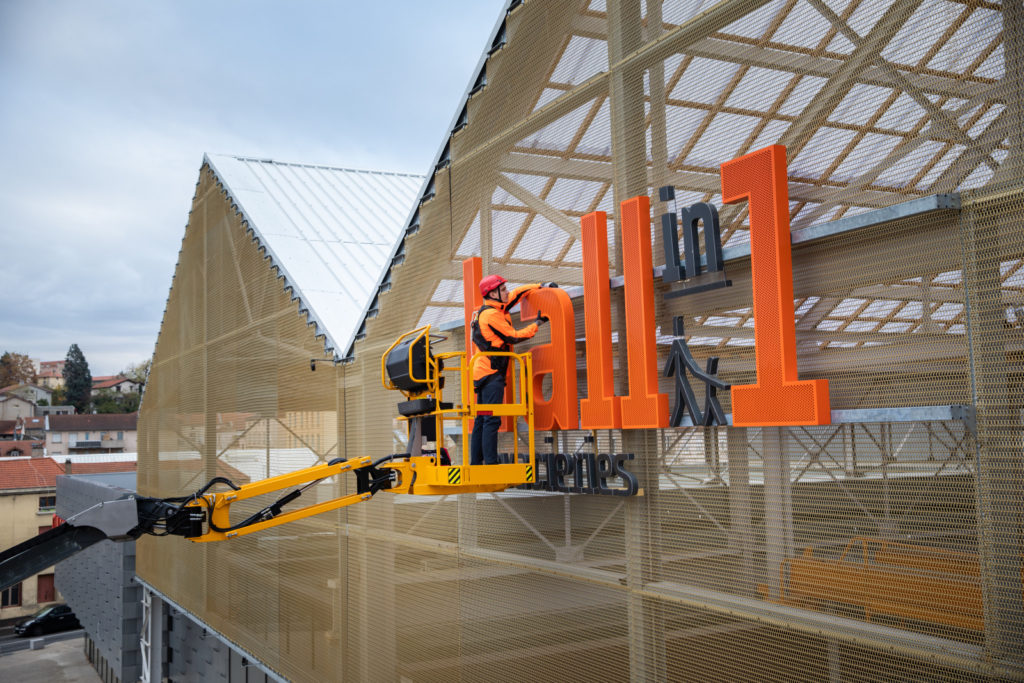 A boom lift to work in good conditions
A boom lift will also offer excellent working comfort for the workers. Thus, they will not need to balance on a ladder or not know how to position themselves to do the work to be done. Furthermore, thanks to boom lifts, all your teams will be able to work in the best possible conditions. Therefore, you are putting all the chances on your side to obtain more accurate work and greater profitability by offering good working conditions on your site.
Choosing a boom lift platform to have the suitable model at the right time
Depending on the job site and the work to be done, you will not necessarily need the same model of the boom lift. For example, some models are better suited to the terrain or accessibility of the site.
Some advice for choosing the right equipment
The four basics to remember:
I choose my boom lift according to the nature of the work to be done (for example, I don't select a vertical mast for uneven field or if I need offset to access the work to be done)
I select the equipment that allows me to reach the height at which I need to work (for example, if my site is located at the height of 15m, I do not select a boom lift that goes up to 12m)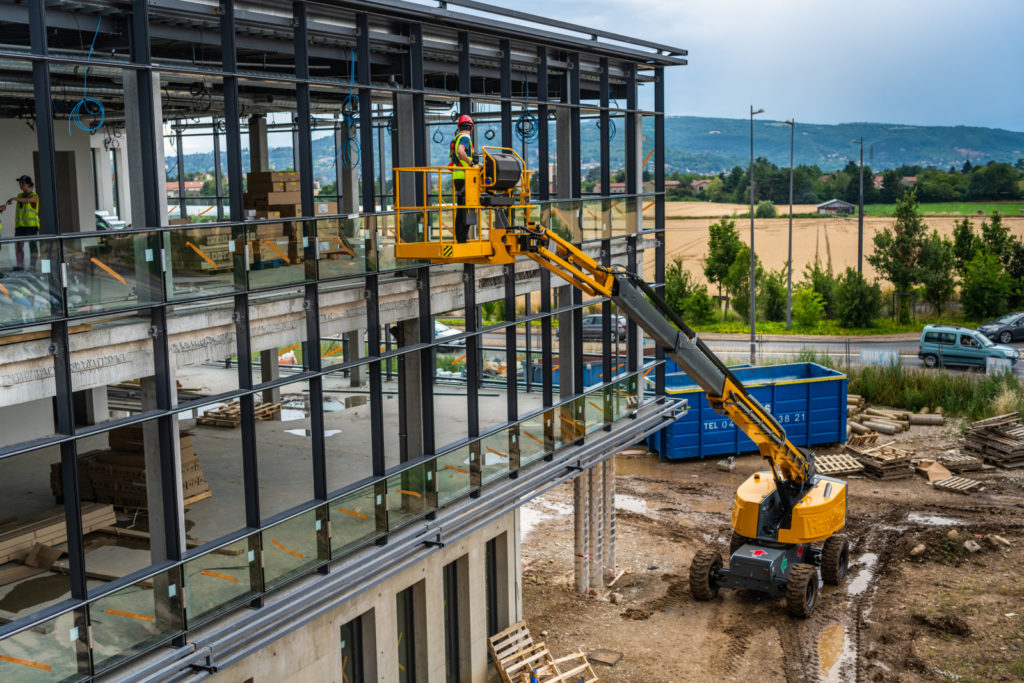 I have the information necessary, and I know for the safety of my employees:
the nature of the ground (maximum pressure supported by the environment in particular), 
the place on which I must work to identify obstacles that may be a constraint, or if I must work indoors, I do not select a combustion engine equipment, but an electric boom lift,
the interventions concomitant to the ones I will have to do, in order not to risk accidents
I know the load that the boom lift will have to support (I do not select a machine that carries 230 kg if I have two people and heavy material to lift)
The right platform for the correct application, some examples
Prefer scissor lifts. This activity does not require an offset most of the time, but it does need a large working area to lift several people and the right equipment and materials to do the job.
Prefer a boom lift with an offset, such as articulated boom lifts, whether self-propelled or towed. These can be used to prune trees and allow you to overhang the vegetation without risk.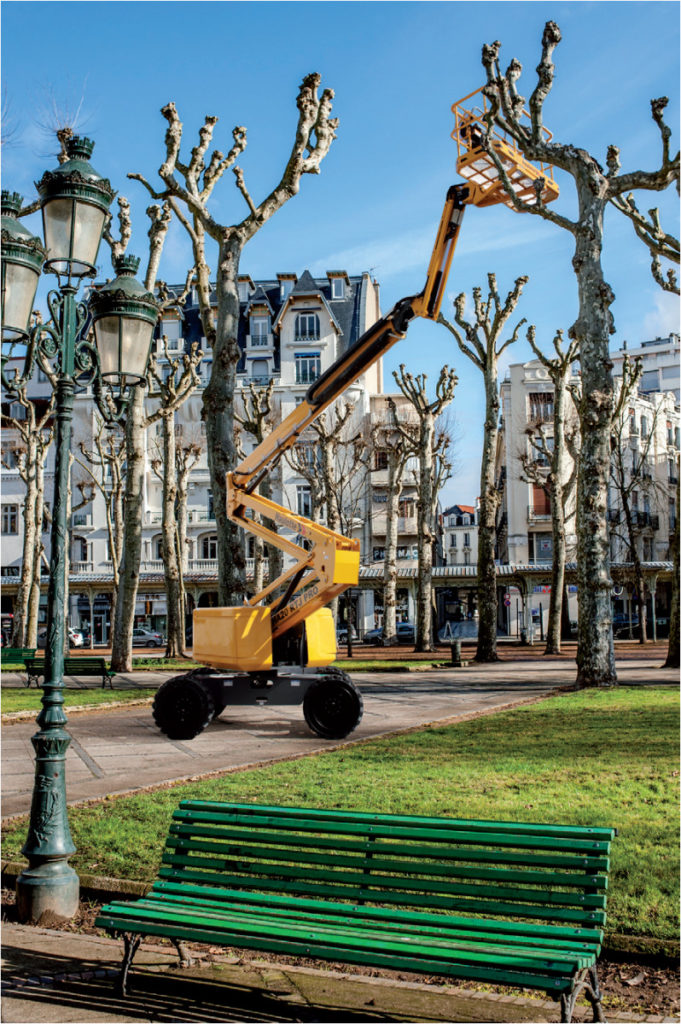 Outdoor: 
If you need to offset, choose an articulated lift to allow you to embark a camera operator with his equipment which could overhang the event and make beautiful images,
If you need to position several camera operators to take different angles of view, it is wise to choose a scissor lift with an extension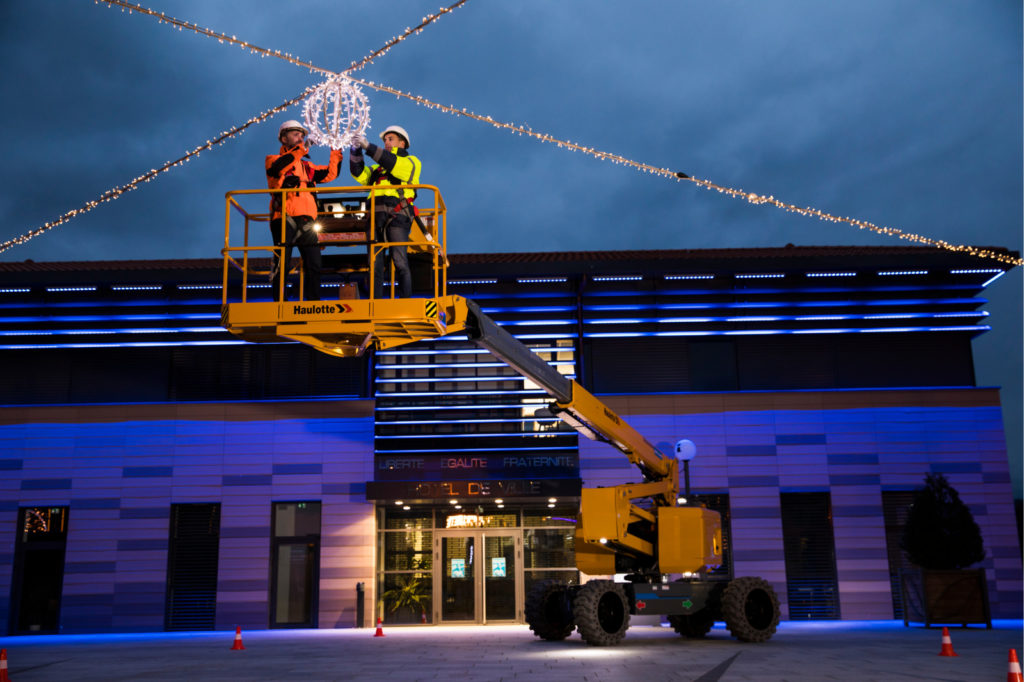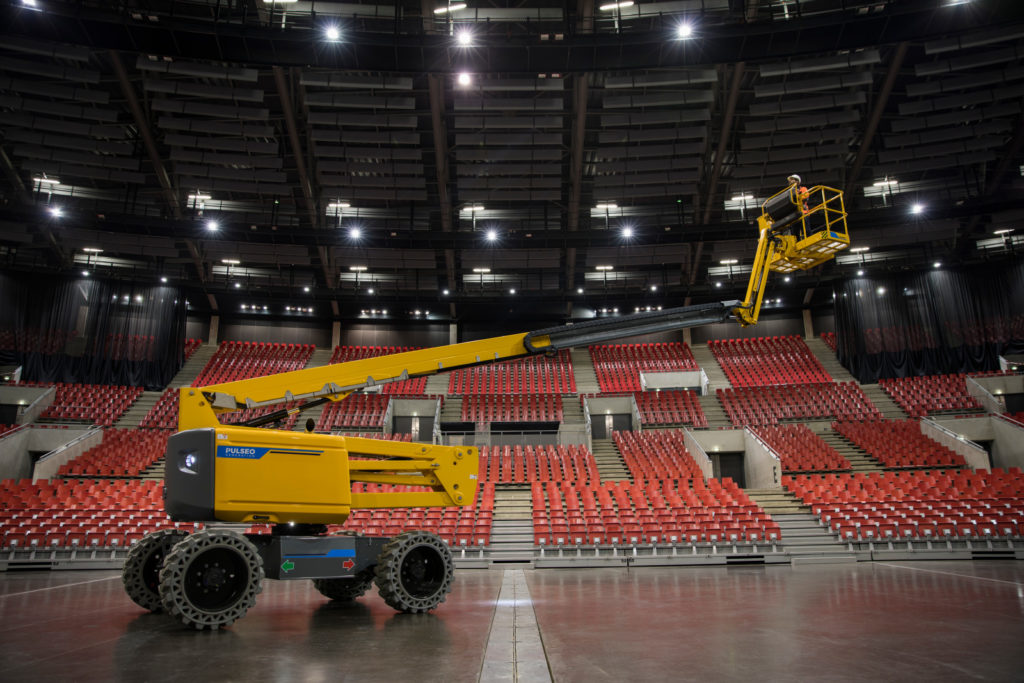 Indoors:
The two types of outdoor platforms are also to be preferred, but an electric version! However, if you need to capture images on flimsy grounds, requiring a low ground pressure, choose the push-around platforms which are particularly adapted. Their non-marking tires and rubber stabilizers protect the ground surface. In addition, their compact size allows them to pass through doors and elevators.
4/ For picking or inventory operations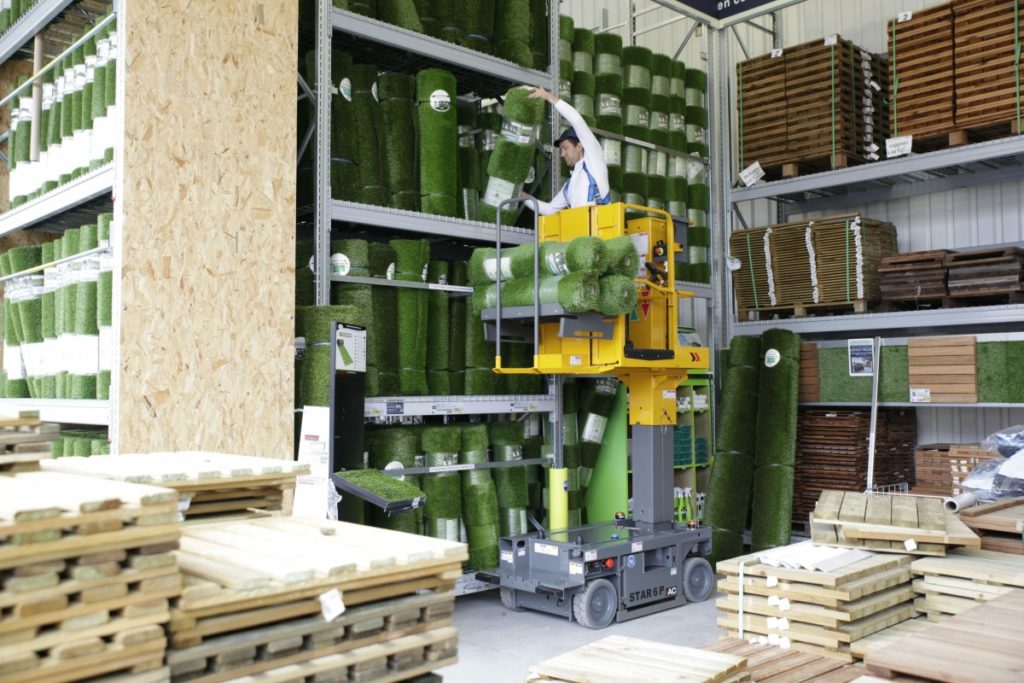 We recommend vertical mast aerial platforms. Easy to maneuver in constrained and congested spaces, whether indoors or outdoors, on stabilized surfaces.
The extension of the platform allows benefiting from additional space. The models equipped with a pendulum will enable them to overcome obstacles and have an exceptional rear offset of 0 cm, making them very easy to maneuver.
For distribution and logistics work, the PICKING model is equipped with an electrically operated lifting platform.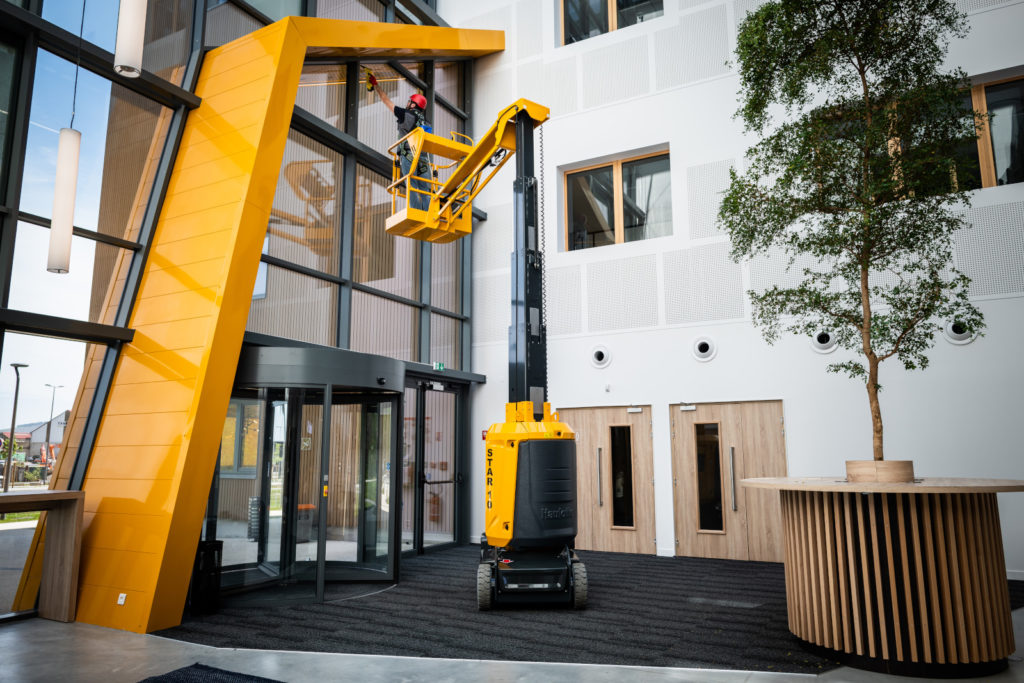 Key benefits of using MEWPS
3 arguments to convince you