Write your Santa List: a safely illuminating for Christmas and the correct MEWP for doing the job.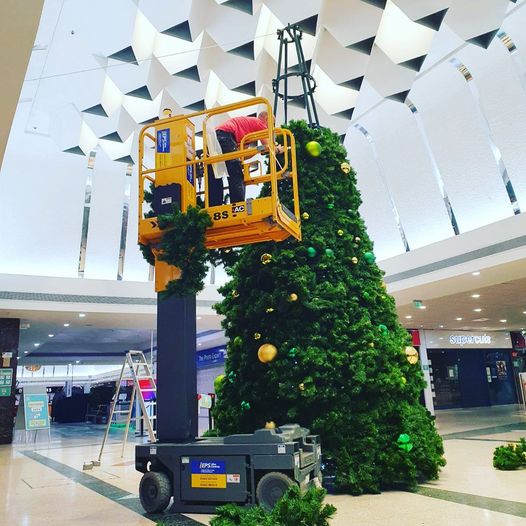 Less than a month before Christmas, it's time to get all the lights and decorations out! Everyone is getting ready, and we can already see in a few cities the Christmas lights out. During this period, a lot of lights and decorations will be put-up, and removed. 
Every year a warning is sent by the IPAF (International Powered Access Federation): removing the seasonal decorations can quickly turn into a huge mess if operators and supervisors are not well trained to the correct use of Mobile Elevating Work Platform (MEWP). 
"Making our streets and shopping centers look festive should never come at the expense of safety – whether it is an individual operator cutting corners to complete a rush job, or a client or contractor not taking proper care and attention in planning and supervising the task. » Peter Douglas, CEO and managing director, IPAF
The three major risks factors when hanging festive lights and decorations are:
★ #1 – A wrong selection of the type of MEWP regarding the height and complexity of the work or the site environment
★ #2 – Injuries due to the environment of the operation, especially in a public area:
 

electrocution due to the proximity of overhead power lines

 

burns and tissue damages due to the exposure to a radio frequency (RF) by a radiation device

 

collision with a vehicle due to traffic in the immediate vicinity of the intervention site
★ #3 – An unauthorised use of the MEWP, or untrained personnel that causes an injury
To ensure the safety of the operators and of all people near the jobsite, a risk assessment must be carried out prior any operation. The principle is to evaluate all type of risks during the operation and put in place sufficient control measures to eliminate or minimise those risks. A preliminary site visit is mandatory to evaluate the environment of the intervention. It's important to bear in mind that circumstances may differ with different criteria:
when weather conditions are not the same, with a decrease of brightness for example
if the jobsite gets crowded and the density of surrounding traffic or pedestrians is more important
If the operation takes more than a day and the operator has to be adaptable
Once the risk assessment and site assessment are done, there are 4 vigilance key points on which you need to pay attention
1 / MEWP SELECTION
After properly doing a risk and site assessments, the selection of the correct and more suitable MEWP can be done. Apart from the common and usual requirements such as height, outreach load/people loading rate, supported wind speed, power source, there are other factors to be considered for putting on Christmas lights!
These include: duration of the work, necessary configuration for unloading, type of ground and proximity to other hazards…
Every one of these criteria should influence correct machine selection and is very important to think off beforehand.
Find out more about work near overhead power lines here: « Avoiding electrical accidents« , to stay safe when putting on Christmas lights in the streets.
2 / MEWP MAINTENANCE
You have to make sure that all MEWPs you are using are in safe working conditions, that they comply with local regulations and manufacturer's requirements.
Don't forget your daily pre-use inspection before starting your work
Ensure that the machine is suitable for the nature of the work to be performed
Verify that he or she has received a training for the type of machine
Consult the machine's documents and perform a visual check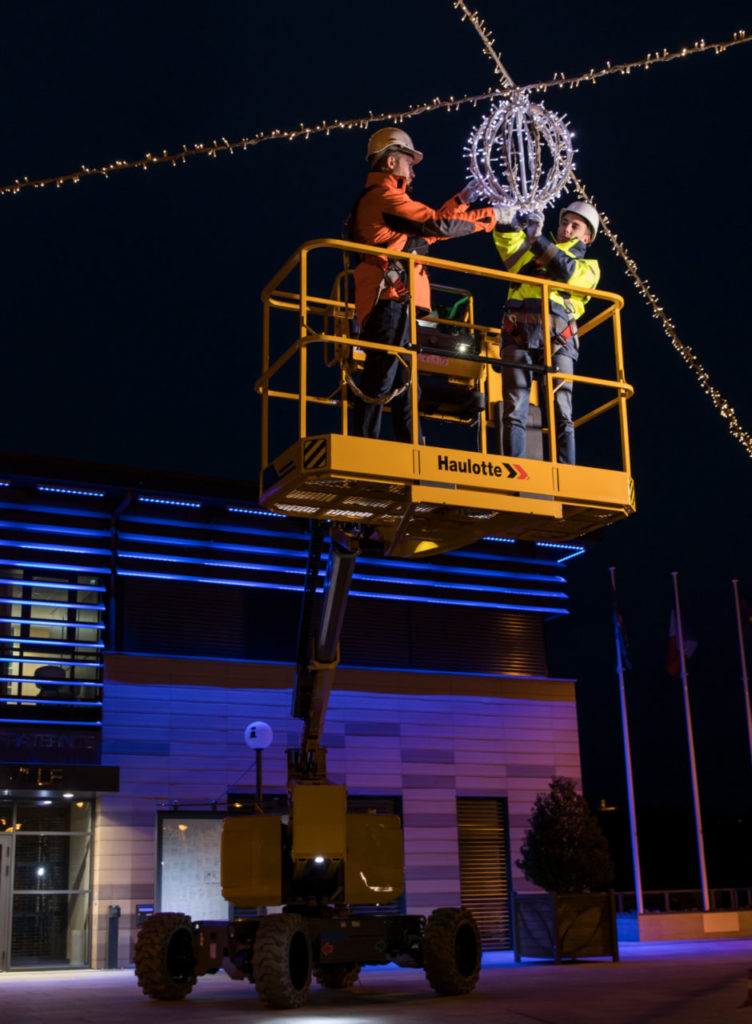 3 / PERSONNAL PROTECTICE EQUIPMENT PPE
It is important to make sure your being seen on your worksite to avoid any incident. PPE are not an option, you should always wear them while working and keep them in a good state to ensure everyone's safety. Find out our recommendations for checking your PPE and making sure you're wearing it correctly:  « Focus on fall arrest equipment »
Also think about protecting the neighbourhood when the jobsite is ending at the end of the day. Storing the MEWP in a closed area will be safer than to leave it in the street, even if a secure area is delimited around it.
4 / TRAINING AND BREAFING
Make sure that every operator driving the MEWP is well trained and have all authorizations and driving licence up to date.
The jobsite supervisor should have a perfect overview of all individual skills and limitations to seek advice and competent assistance when required. A specific briefing must be proposed to all operators, during which the list of all risk factors related to the work site must be discussed.
Some complementary micro-learning could be offered to address specific risks situations as electrocution, traffic or unloading.
For more in-depth explanations around these 4 vigilance key points, please refer to IPAF's booklet around "Safe use of MEWPs in public areas".
Avoid hypothermia when working at height outdoors
When the outside temperature falls below 5°C (41°F), prolonged exposure to cold can lead to several risks, the most dangerous must be hypothermia.