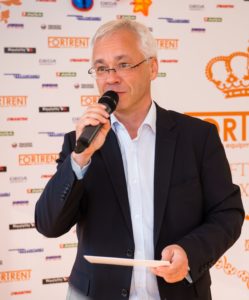 Grigory Grif is the CEO of Fortrent, a joint venture of two European companies Cramo and Ramirent, operating in Russia for more than 30 years. Fortrent is a general rental company that provides equipment for any type of construction work, including Haulotte's lifting equipment.
How long have you been partnering with Haulotte and why did you choose Haulotte's lifting equipment?
Haulotte supplies equipment for our parent companies, so we have worked with them even before the Haulotte Vostok was established in Russia in 2005. I have been working in Fortrent/Ramirent for over 20 years and Haulotte equipment has always been a part of our catalog.
It is a reliable European company that offers a wide range of lifting equipment. The main advantage over other European, American and Asian companies, is that Haulotte has a well-developed service network in Russia and the capability to supply spare parts quickly, provide after-sales service and first-rate technical advice. 


How is the Mobile Elevating Work Platform (MEWP) market in Russia doing?
The Russian market is growing. Machinery fleet of leading companies are expanding and even small companies working in this segment are appearing. Unfortunately, the Russian market is grossly undeveloped in comparison with ones in European or North American countries.
 According to our estimates, the entire market of lift platforms in Russia consists of less than 10.000 pieces of equipment. The largest rental companies in Europe, such as Loxam, have more than 50.000 pieces available and even small European countries have larger markets. Therefore, we have room to grow, and we hope to eventually come to figures that are more comparable.
How could you increase your activity and the MEWP's usages on the Russian market?
Our strategy is to grow along with the market. We try to develop organically and grow in all of our product groups. We are now represented in five Russian regions, but we are ready to expand according to the needs of our clients and the largest construction projects in the country.
 New requirements in construction about work safety, construction time reduction, equipment effectiveness, and expansion of customer knowledge about the capabilities of modern lifting equipment, are the key factors that lead to a rise in the demand for lifting equipment.
Who are your clients and what are their requirements?
On average 70-75% of our customers come from the construction industry. We also have clients involved in the industrial production, mining and manufacturing industries, as well as private clients and public companies. Our client base is very wide and their requirements are changing. The price used to be a key parameter, but nowadays, our clients are more interested in the reliability of the equipment, its performance and accessibility.