Dengh Jin, the founder and CEO of Shanghai Zhixian Yicha Supply Chain Management, brings more than a decade of experience in the equipment rental industry.
He started his company in 2019 after discovering the potential in the booming aerial platform market. To meet the market's demands, Dengh was faced with the challenge of managing and developing a rapidly expanding team. After two arduous years, he successfully scaled his first business. However, as the market faces its first headwinds due to broader economic shifts, he's now returning to the fray. Drawing on his wealth of expertise, Dengh shares with us valuable insights into the Chinese rental market.
Can you tell us a bit more about yourself and your company?
I've been in the equipment rental business since 2013. In the early days, the equipment I used included logistics equipment such as forklifts, transport trucks, and other equipment used for warehouse and factory production operations, which were unrelated to aerial platforms. However, in 2019, the last company I worked for introduced me to this equipment category.
After being exposed to aerial platforms and the market behind them, I saw that it was actually a good business to be in. So, I started purchasing my own equipment, added aerial platforms to our rental fleet, and launched my own company: Shanghai Zhixian. We provide equipment rentals under the brand Xinther, including aerial platforms, to the Jiangsu-Zhejiang-Shanghai-Anhui region in East China. 
As the CEO of the company and the majority shareholder, my work mainly involves managing sales and finances, equipment selection, and purchasing, while my partner oversees more detailed work such as inventory monitoring, asset management and equipment maintenance.

Can you tell us about the characteristics of your market and the client profiles you are targeting?
Shanghai itself is a very big market, with 200 rental companies and 40-50,000 platforms in total. It is a very strong market that has evolved and thrived over many years, which has provided significant leverage to the rental companies in central Shanghai.
This helps to limit the market share of the largest rental companies in China, such as Hongxin Jianfa, as well their influence and activity on the Shanghai market. Because of this, Shanghai enjoys stable rental rates and rental prices, which is overall a good thing as it allows new businesses – like ours – to develop and flourish.
About our clients, more than 90% of our customers are in the construction field, with a few in industrial production. As our team develops, we aim to gradually adjust this ratio, targeting 80% in construction and 20% in the industrial field.
What equipment do you offer to your customers? What are the specific features of this equipment?
In terms of the models that we provide, we started with Haulotte's 6 to 12-meter scissor lifts. Moving on to articulating booms, we mainly offer the 14-meter SIGMA 16 and 14-meter HA16 RTJ O, so our customers have both electric and diesel options. Unfortunately, due to the implementation of China's IV emissions standards last year, which address emissions from all diesel-operated construction and agriculture equipment, Haulotte's telescopic booms have been unavailable in the Chinese market, but I'd used them in the past. They were imported from France, and they were in very good condition. Looking ahead, if the market conditions are right and the costs allow us to do so, I would be very eager to try out Haulotte's 23-meter and 28-meter telescopic booms.
What is the biggest challenge you've faced over the past few years?
The main difficulty was aligning the team's development with the speed of our business growth. The industry has been developing very rapidly ever since I discovered it in 2019.  We faced the problem of being pushed forward by the market; we reached about 1,000 aerial platforms in only six months, and after a short stabilizing and adjustment period, we reached a total number of 1,500 platforms!
The team dealt with immense pressure and sometimes struggled to keep up, there were also holes and disconnects at the management level. Handling the team's expansion while ensuring their understanding of the market and the business model was very difficult, and it took until the end of 2021 to fully sort out the operational processes.
However, thanks to this experience, as well as the addition of third-party digital management software, we have learned to address potential risks and manage our operations more effectively, so our company has been relatively stable for the past two years.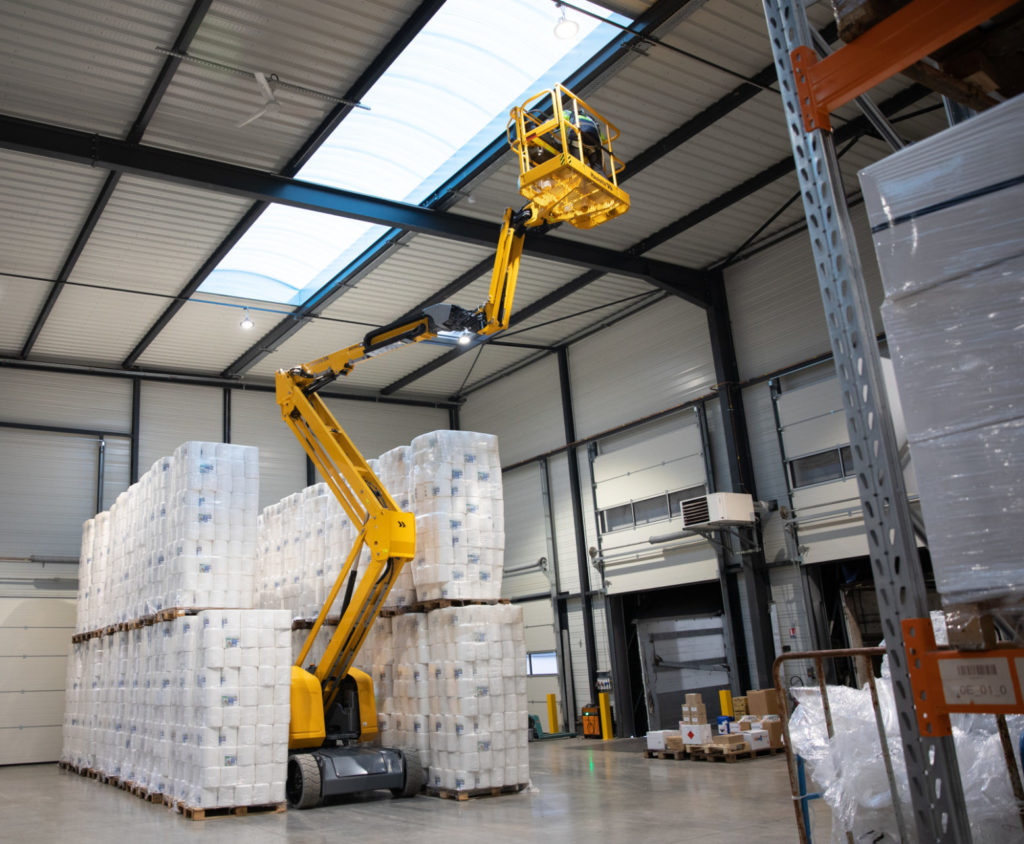 What do you see as the next developments / next challenges for the rental market in China?
The challenges for the rental market lie in the macroeconomic environment in China. For example, the Chinese economy has suffered in the first half of this year and equipment rental occupancy rates have been affected greatly.
Decreasing rental prices for aerial platforms is a major issue and is unlikely to improve in the short-term. Ideally, occupancy rates would remain unaffected. The worst-case scenario would be a shortage of construction projects leading to a drop in occupancy rates and overcapacity, further exacerbating the decrease in rental prices.
In contrast to other equipment categories such as forklifts that enjoy a stable occupancy rate due to consistent demand and regular replacements, the demand for aerial platforms fluctuates with the economy, and the occupancy rate for aerial platforms has exceeded 90% in the past few years. Given this gap, the focus is on whether the market can sustain such high occupancy rates for aerial platforms.
Rental companies are also facing liquidity pressure as the time frames for collecting payments after project completion have been extending. From the start of 2023, payment periods have had an estimated increase of 2 months, and the average collection period for mid-sized and larger rental companies is generally higher than 6 months!
How is demand for electric aerial platforms evolving in China?
This trend for electric aerial platforms has been accelerating the past two years, but I feel like there will be a step back in the future. The cost of batteries is very high, with no signs of decreasing, and the return on investment is not very good.
In the medium to long term, I think the ratio of electric aerial platforms to internal combustion aerial platforms will stabilize within a certain ratio, such as a ratio of 3:7 or even 4:6, which I think is already very high.

In 2023, electric boom lifts are expected to account for 90% of aerial platform sales in China in 2023, what is your outlook for the next few years?
The demand for electric aerial platforms has surged due to customers considering the equipment's operating cost. However, for rental companies, I think the rapidly decreasing rental prices for electric platforms result in a very poor average payback period that is no shorter than diesel platforms. Furthermore, within 3-5 years, rental companies will have to pay a very high cost to replace the batteries, which could represent 10-15% of the price of the entire platform.
The more obvious trend is that most telescopic and articulated booms up to 20 meters are based on batteries now, with telescopic booms over 20 meters gradually embracing this shift.
What are your company's projects and ambitions for the upcoming years?

Considering all factors, I am confident that we will overcome these current economic challenges by strengthening our team management, improving operational efficiency, and reserving a certain level of resources.
When the opportunity is right, we will expand across the Jiangsu-Zhejiang-Shanghai-Anhui region to begin covering strategic areas in this region, where we'll establish a new branch every 150-200 kilometers.  After that, we will set our sights on the wider East China region, with a focus on first and second-tier cities where we plan to establish five to six additional branches. 
Prudent management will maintain our equipment volume within a range of 4000-6000 platforms. This calculated approach ensures steady, sustainable expansion, and we are absolutely committed to making a meaningful impact in these dynamic markets.
Shanghai Zhixian has now transitioned into a phase of steadier growth, adapting its focus to continuous improvement as the market shows signs of slowing down. Guided by Dengh's strategic vision, the company forges ahead through a series of economic challenges, aiming to ultimately expand its presence across the East China region.
Managing risks of Radio Frequency Exposure
Stay safe when working at heights! Learn about radio frequency risks for MEWP operators from IPAF's latest resource.