Clément Viaouët – Options & accessories product manager – Haulotte Group
Clément Viaouët has joined Haulotte in 2011 and works in the headquarters of the group in L'Horme (France). He is deeply involved in the development of new projects and mobile apps of the brand.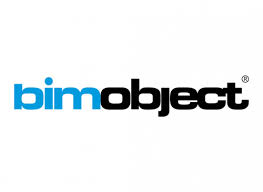 BIMobject
With more than 440 000 references, BIMobject is the world's largest platform of BIM (Building Information Modeling) content. It allows browsing through thousands of high-quality digital objects quickly, in order to integrate them to virtual modeling projects.
You have worked together on the integration of Haulotte product range to the BIM environment. Not everyone is familiar with this new standard yet. What does it exactly consist in?
Project Manager (BIMobject):
BIM, short for Building Information Modeling is the international standard for building and infrastructure information modeling. Most importantly, BIM represents work methods and a 3D parametric digital model containing smart and structured data.
This new virtual modeling allows reliable data-sharing throughout the whole lifespan of a building, from its design to its demolition. This new way of addressing the construction industry is expanding quickly and all over the world, including in the public sphere infrastructures (hospitals, schools, stadiums and arenas, etc.) but also in the private sector when it comes to major projects.
Clément Viaouët (Haulotte Group):
It is very interesting to note that BIM relates to all building stakeholders. It does not limit to the very building process: it integrates the whole lifecycle of a construction, from its maintenance to its deconstruction. When a building is designed via a BIM model, all the stakeholders (architects, design offices, project managers, contractors, workers, builders…) are able to work in cooperation and good coordination on the basis of plans and information contained in the BIM modeling. It is an open, collaborative and participatory platform.
In what way and to what extent does a brand of material lifting equipment such as Haulotte take an interest in BIM?
Clément Viaouët (Haulotte Group):
BIM is growing fast on a global scale and is massively adopted in many countries. It will very quickly become the inevitable standard for every project regarding the construction, development and maintenance process of buildings and infrastructures.
Haulotte range of products was duty-bound to enter the BIM object library in order to be an integral part of this new cutting-edge environment. And for many professionals, BIM referencing is becoming the first point of contact with the brand. Making our machines available in a BIM-compatible format is thus a great showcase regarding all the construction companies. Furthermore, this project comes within the scope of a broader dynamic. Indeed, Haulotte group operates today as a supplier of global solutions, of which digital is an integral part.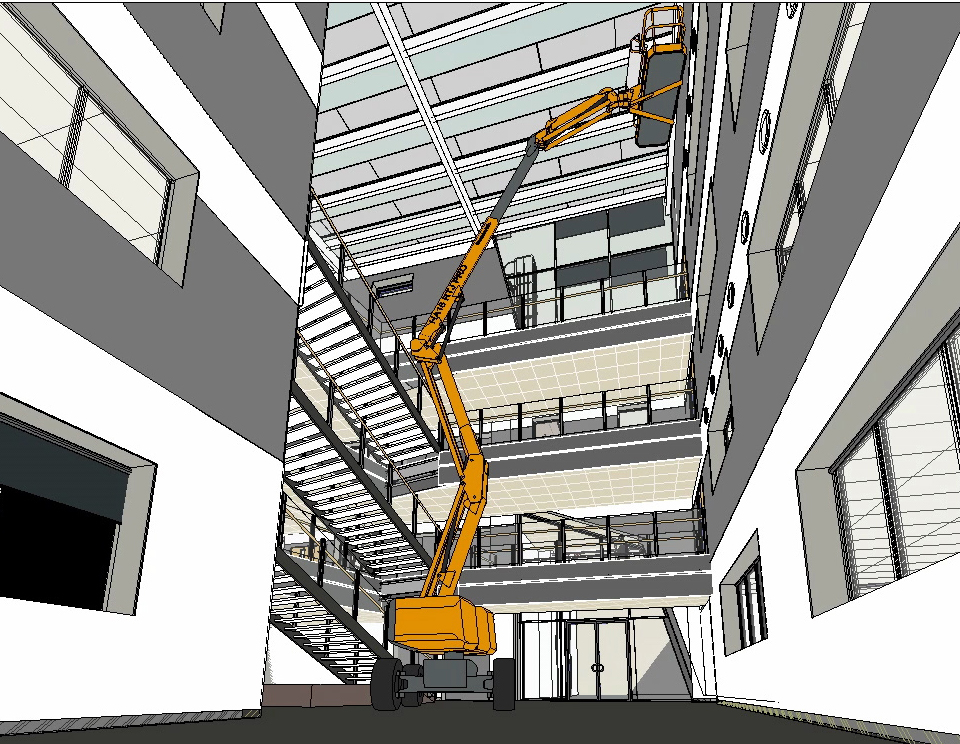 Project Manager (BIMobject):
Each BIM model includes every object that is part of the 3D building, from structural works to windows and even doorknobs. BIM models also apply to building site machinery and machines used for the development or the maintenance of infrastructures. The model also compiles their technical specifications (weight, strength…) as well as the relations between these objects. Such information completes the purely geometrical description of the building shape. For this purpose, architects and design offices will collect each object as a digital file in a BIM object library.
Our work for brands and companies consists in creating BIM objects so to "fill the shelves of these virtual libraries". Today, BIMobject lists a little bit more than 440 000 objects for 1.5 million users worldwide, including 100 000 in France. The growth in the number of users is around 45% per year.
Technically speaking, how did that materialize?
Project Manager (BIMobject):
We have just uploaded the first 8 objects for Haulotte. In concrete terms, each model can be downloaded as a digital file available on BIMobject or compatible with the business softwares of users. We managed to carry out this task with Haulotte smoothly, thanks to their 'Step' modeling digital files created by the teams in charge of the design and development of each machine.
Clément Viaouët (Haulotte Group):
That is correct; we use 3D digital modeling, with 'Step' files that are used in the design of all our lifting machinery models. We however had to reduce their weight to provide users with optimized handling. In the end, what really matters is that every machine and its specific motions are entirely identical to real-life models. We committed to pay great attention to the parametric data of our machines, so that each BIM model representation matches the reality of construction sites.

BIM models are becoming fantastic prescribing tools in the sense that they allow professionals to choose and compare the right machine model in a specific situation of use. Many applications uses and adaptations will certainly emerge thanks to the BIM revolution and will create value for all the stakeholders in the construction industry. This is a topic we are carefully monitoring.
I would like to add that – as pointed out by BIMobject – we have just published 8 machines in BIM format: a digital twin for each of our Haulotte product ranges: vertical masts, electric scissor lifts, diesel scissor lifts, electric articulating booms, diesel articulating booms, telescoping booms and telehandlers. This is just the beginning: our goal in the near future is indeed to provide more Haulotte models in BIM format so to cover a large proportion of our range, which will allow us to meet the expectations of our customers.
In short, our BIM objects satisfy 5 key requirements to meet the expectations of our customers:
1
"Small" digital that do not exceed 4 to 6 MB,
2
3D modeling that respects the design and the specific fairing of the models of our brand, so that they can be identified easily and are consistent with "real-life" models,
3
Modeling files with clear and concise parameters so to save time when handling our objects in a 3D digital model,
4
Minimal and maximal ranges of motion (articulating or telescopic arms) defined precisely and realistically for each model. Each working height, rotation angle, etc. has been defined in a smooth and continuous way,
5
The overall work envelope has also been defined in a clear, distinct and continuous way, in order to have realistic virtual objects down to the very last detail and also to avoid unpleasant surprises when the machines are ready.