In November Haulotte launched the HS15 E & HS18 E and HS15 E & HS18 E PRO scissor lifts, new models in the PULSEO GENERATION range.
On this occasion, we have interviewed Eugénie Viard-Gaudin (Haulotte Marketing Product Manager) and Arnaud Robardey (Haulotte Project Manager). They reveal the genesis of the design of these 100% electric rough-terrain scissors.
Eugénie Viard-Gaudin, Marketing Product Manager :
She joined the Haulotte Group three years ago. Responsible for the marketing follow-up of several ranges of machines, she worked in particular within the development department of this new model of scissor lifts.
Arnaud Robardey, Haulotte Project Manager :
He joined the group in 2015. For the past three years, he has been coordinating the development and industrialization project for the HS15/18 E machines of the PULSEO range.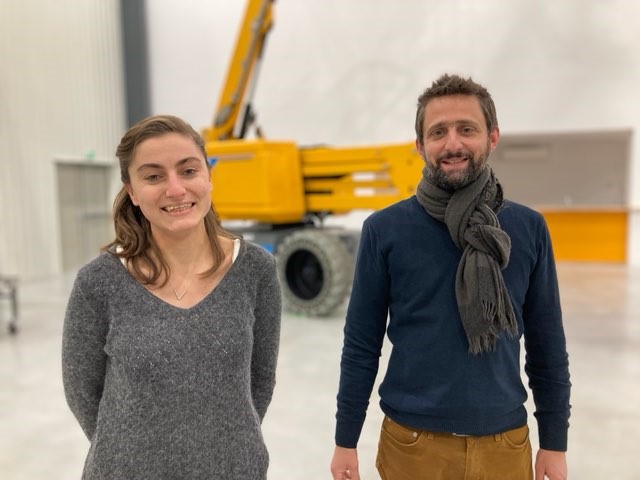 Why did you choose the scissor lift platform for this second model of the PULSEO generation ?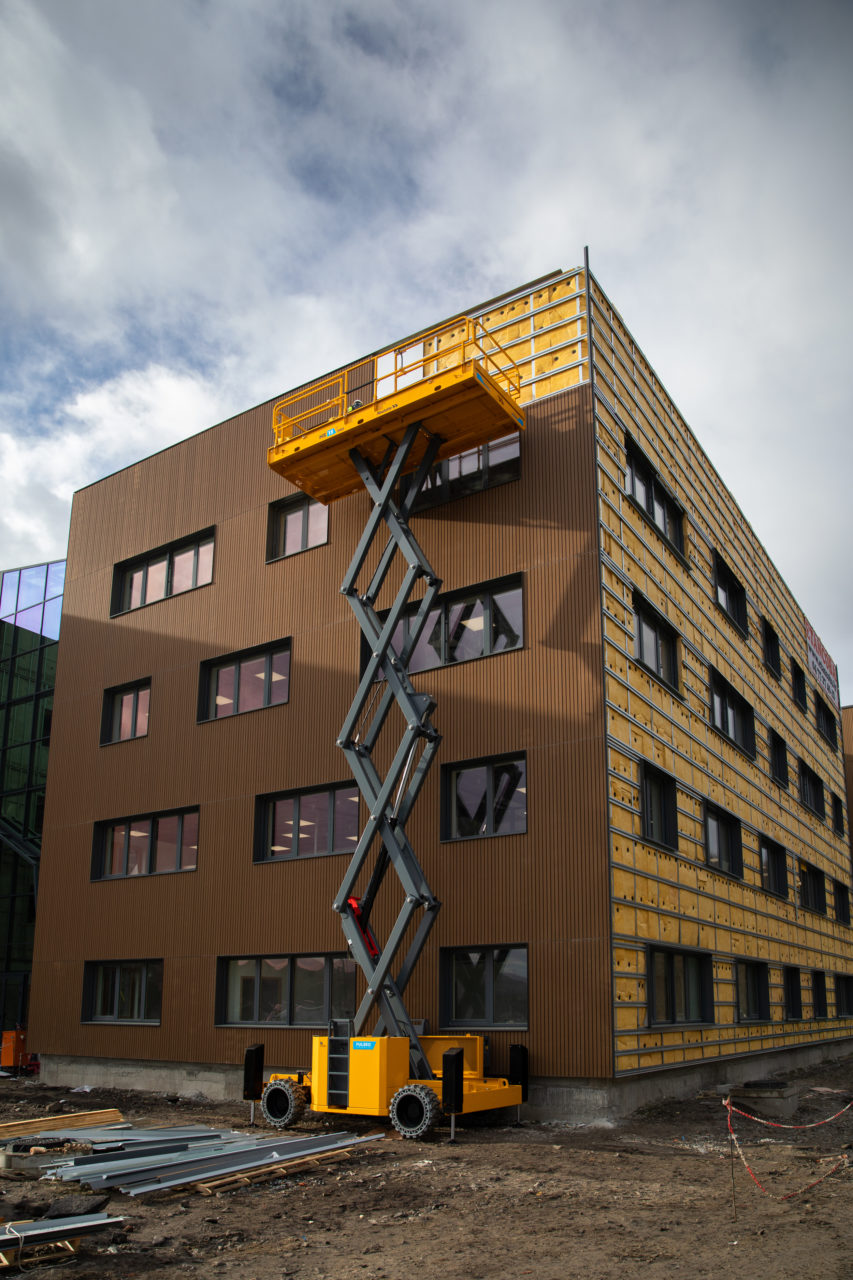 Arnaud Robardey :
For different reasons. First of all, we wanted to strengthen and renew the range of rough-terrain scissor lifts which corresponds to a very important market segment. The old machines were developed in the 2000s and therefore did not incorporate the latest Haulotte standards. It was essential to renew them quickly.
Moreover, the choice to develop 15m and 18m scissors for this second PULSEO GENERATION model is a strong strategic decision made by our Product Marketing department. This allows Haulotte to propose a differentiating offer of high capacity scissors. This range offers 100% electric rough-terrain scissors for maximum versatility, which is highly sought-after by our customers.
The choice of 15m and 18m scissors is therefore both a necessity linked to our product portfolio and a real strategic decision.
Eugénie Viard-Gaudin :
Scissor lifts are indeed used by a very large number of professionals for a multitude of applications. These models are essential classics in the catalog of all major equipment rental companies around the world. With the HS15 E & HS18 E models, professionals can work absolutely everywhere : indoors and outdoors, in all weather conditions, day and night, on eco-building sites, in sensitive areas (schools, hospitals, etc.) and in low-emission zones. It's a real novelty: the lifting capacities and wide platform combined with the PULSEO generation make these scissors the perfect combination for new applications.
How is such a model being developed at Haulotte ?
Arnaud Robardey :
Our customers are at the center of the development of our new products. Throughout the development process, we have defined reviews with our key partners, ranging from the collection of requirements in the upstream phase to the testing of production machines at the end of the project. Feedback from our partners allows us to converge in the right direction. We design these machines for our customers, but also and above all with them.
Eugénie Viard-Gaudin :
These different steps allow us to identify more clearly the advantages or obstacles perceived by our customers and users when they discover the machine. The aim of the project was to develop a rough-terrain machine without compromising on performance. Thanks to our various exchanges with customers, we have had confirmation that this objective has been achieved. In addition to this customer feedback, which is essential for our developments, the project has been accompanied by a number of works on strong technological bricks. For example, the Haulotte Activ' Energy Management system and the development of a Range Extender were born from this type of thinking. Innovation at the service of customers!
How is this model innovative ?
Arnaud Robardey :
In everything! Everything has been rethought from A to Z. Our design office has designed a new chassis, a new machine architecture, as well as a new drive train and energy consumption. This new model has been completely rethought and incorporates many innovations. It is a 100% electric, rough-terrain, totally silent and non-polluting platform with a capacity of 750 kg. We are opening up a new segment of high-capacity machines capable of operating indoors. The construction sites are different depending on the geographical area and the stage of progress. To adapt our machine to all these configurations, three recharging solutions are available. Traditional charging via the network or two options of accelerated charging via the network or via a Range Extender. This Range Extender (5.5 kW Stage 5) is removable and can be installed/uninstalled in minutes before rental when the application requires it.
Eugénie Viard-Gaudin :
This model is also equipped with our new Activ'Energy Management system which improves battery performance and life. This exclusive technology (patented by Haulotte) combines an intelligent CAN charger (smartcharger) – which adapts to all existing energy sources in the world – with a centralized filling system. All of these innovations greatly reduce the emphasis on the operator in terms of battery management, and the cost they can represent for our customers.
Arnaud Robardey :
This scissor lift is equipped with all our latest innovation bricks. Eugénie has just mentioned our new battery management system. It is also equipped with our Haulotte Activ'Lighting System, our intelligent Haulotte Activ'Screen interface, which allows direct access to the machine's parameters and diagnostics without the need for additional tools and the new Activ'Schield Bar adapted for scissors.
How do you see the future of lifting machines in 5 to 10 years ?
Eugénie Viard-Gaudin :
Haulotte officially announced it in 2018. We will only produce new 100% electric models. We are moving towards machines that are totally silent, non-polluting, zero emissions.
Arnaud Robardey :
Our machines today are more efficient, more solid and versatile, easier to handle and drive, and ever safer.
Haulotte Activ'Energy Management
How to avoid premature battery failure ?